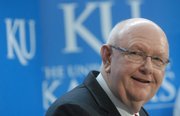 KU's 16th chancellor, Robert Hemenway, announced Dec. 8, 2008, that he would retire at the end of the current academic year. He's been chancellor for 14 years.
Kansas University Chancellor Robert Hemenway will lead a delegation of KU faculty and administrators on a trip to China in mid-June, KU announced today.
The goal of the trip, from June 10 through 17, will be to develop more academic-exchange programs and research collaborations. The itinerary includes visits to seven Chinese universities, a visit with Kansas' trade representative in Beijing, and meetings with Kansas-related companies doing business in China.
"KU expertise going abroad can make a huge impact on China's future, and China is going to have a huge opportunity over here," said Bill Tsutsui, director of KU's Confucius Institute, which is funded partly by the Chinese government and promotes learning of Chinese language and culture.
Hemenway is scheduled to give a lecture on the Harlem Renaissance during a stop at Huazhong Normal University in Wuhan.
As the partner university for KU's Confucius Institute, Huazhong Normal University sends instructors to KU each semester to teach Chinese-language courses. Tsutsui said one goal of the visit would be to expand the relationship between the two schools.
"We have one student over there right now, and I hope there will be increasing numbers in the future," Tsutsui said.
He estimated the trip would cost upwards of $25,000 and would be paid for with a combination of sources. KU spokesman Todd Cohen said private dollars would pay for Hemenway's portion of the trip.
Other KU faculty going on the trip are Rick Ginsberg, dean of the School of Education; Joseph Steinmetz, dean of the College of Liberal Arts and Sciences; Holly Goerdel, assistant professor of public administration; Allen Rawitch, dean of graduate studies at KU Medical Center; Stephen Mazza, professor of law; Bob Honea, director of the Transportation Research Institute; Tsutsui, and KU Confucius Institute associate director Sheree Willis.
Willis will be delegation's interpreter.
Copyright 2018 The Lawrence Journal-World. All rights reserved. This material may not be published, broadcast, rewritten or redistributed. We strive to uphold our values for every story published.