Paris — Andy Roddick knows the story well, so he politely declined the official match DVD that players are offered at the French Open.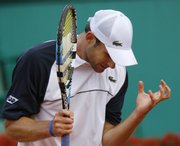 "No, thanks," the No. 3-seeded Roddick said. "I just don't want to see that ever again."
He had just exited in the first round at Roland Garros for the fourth time in six years, a four-set loss to 125th-ranked Igor Andreev of Russia that was part of an 0-8 showing by U.S. men Tuesday at the clay-court Grand Slam tournament.
The worst American performance at the French Open in at least 30 years began, understandably enough, at the hands of No. 1 Roger Federer. He started his quest for a fourth consecutive major title by finishing a 6-4, 6-2, 6-4 victory over Michael Russell in a match suspended by rain during the second set Monday.
Then Justin Gimelstob lost to No. 32 Nicolas Almagro in straight sets. And Amer Delic was sent home by 2003 French Open champion Juan Carlos Ferrero. Roddick's 3-6, 6-4, 6-3, 6-4 departure came next, followed in quick succession by those of Robert Kendrick, Sam Querrey, a racket-tossing Vince Spadea and No. 8 James Blake, who watched 22 aces zoom past in a 4-6, 6-4, 7-5, 7-5 defeat against 6-foot-10 Ivo Karlovic near day's end.
Au revoir, mes amis! Two members of the Top 10 (Roddick and Blake), a 19-year-old up-and-comer (Querrey), a late bloomer (Delic), a handful of veterans - no matter the profile, the result was the same Tuesday.
One of their countrymen remained in the draw, at least until play resumes: The ninth and final U.S. representative, Robby Ginepri, split the first two sets against Diego Hartfield of Argentina before their match was suspended because of fading light.
"It's no secret we haven't done that great on clay this year," Blake said, "but I think we have the ability."
Granted, they're hardly the only American men who've found the red clay of Paris more troublesome than what's underfoot at other majors. No U.S. man won the French Open between Tony Trabert in 1955 and Michael Chang in 1989, and Andre Agassi was the last to do it, in 1999.
Copyright 2017 The Associated Press. All rights reserved. This material may not be published, broadcast, rewritten or redistributed. We strive to uphold our values for every story published.