San Antonio — As much as the individual talents of Tim Duncan, Tony Parker and Manu Ginobili have frustrated the Utah Jazz in the Western Conference finals, the San Antonio Spurs have benefited from something else: their collective experience.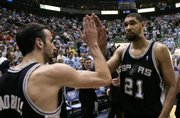 The Spurs are the oldest team in the league, featuring a roster full of players who've won championships or been part of long postseason runs. The calmness, confidence and wisdom gained along the way has been put to good use against the novice Jazz, helping San Antonio build a 3-1 series lead going into Game 5 on Wednesday night.
Consider the evidence.
In Games 1 and 2, San Antonio built big leads, then prevented Utah from getting close until it was way too late. The Jazz finally clicked when they went home for Game 3 and the Spurs were wise enough to realize it wasn't their night. Rather than go all out for a rally that might've made the final score look good - as Utah did late in the first two games - San Antonio coach Gregg Popovich let backups finish what became a 26-point loss.
The best example, though, was Game 4 on Monday night.
Neither team was playing great, but both were playing hard. The Spurs led by only one point early in the fourth quarter when a foul was called on the Jazz. Then another. And another. More fouls and some technicals followed. Utah's fans lost their composure, too, going from anti-official chants to throwing things on the court.
San Antonio handled it all just fine, mainly by making free throws and not doing anything silly. As a reward, the Spurs are one win away from heading to the NBA finals for the third time in five years.
"The playoffs are a physical time," Popovich said Tuesday. "Things happen and you move on."
Series clinchers, also known as "close-out" games, are considered the toughest to win, but San Antonio players certainly know the drill.
The Spurs are 12-4 in close-out games since Duncan, Parker and Ginobili teamed up in 2003. Nine of the wins came on their first chance to end a series, including against Denver and Phoenix this postseason.
Yet within those numbers lies a nugget of hope for Utah. All four of San Antonio's losses have come at home.
Well, that would be good news for the Jazz if they hadn't lost 18 straight games in San Antonio. Utah's skid dates to February 1999, so long ago that Karl Malone and John Stockton had four more years together and the David Robinson-led Spurs were not only still playing in the Alamodome, it was 18 months before ground was broken on their current arena.
Copyright 2018 The Associated Press. All rights reserved. This material may not be published, broadcast, rewritten or redistributed. We strive to uphold our values for every story published.