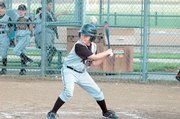 The U9 Rebels unleashed 19 runs in three-plus innings before the one hour, 45-minute time limit stopped their game against the Clippers in the top of the fourth, giving them a 19-6 win.
The Rebels' biggest inning came in the first when they scored seven runs on four hits. Rock Randels hit an RBI double and scored a run. Brad Kincaid also batted in a run with a double, and Peyton Habiger knocked in two with a single.
The hits kept coming in the second when the Rebels added six runs on five hits. Alan Clothier hit an RBI triple and Mikey Corbett had an RBI single and scored a run.
The Clippers' big inning came in the bottom of the third when Christopher Toalson, Logan Smith, Christian Iles and Carson Ziegler all scored after drawing walks.
Copyright 2018 The Lawrence Journal-World. All rights reserved. This material may not be published, broadcast, rewritten or redistributed. We strive to uphold our values for every story published.