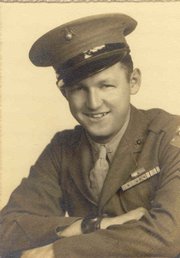 Long after he hung up his sheriff's badge, Fred Broeker kept his crime-fighting attitude.
Broeker, who served as Douglas County's sheriff from 1961 to 1965, made the news in 1993 at age 71 by firing a gun at a fleeing suspect's vehicle after an armed robbery at a liquor store where Broeker was working.
"He was a good guy to get along with. He wasn't no problem unless you wanted to be a problem. Then he'd take over," said Bob Snow, who grew up with Broeker in North Lawrence and knew him for about 80 years.
Broeker, 85, died Saturday at the Colmery-O'Neil VA Medical Center in Topeka. He was a Pearl Harbor survivor and worked as a Kansas Highway Patrol trooper and a police officer in Texas and California in addition to his time as Douglas County sheriff.
Those who knew him remembered him as a no-nonsense sheriff with a style influenced by his time in the U.S. Marine Corps.
"He had the demeanor that, 'I'm a Marine. I can do it,' and he did," said Don Schwartz, who worked as a deputy under Broeker for four years. "He was forceful and didn't back down."
While in office, Broeker lived with his family above the county's jail, which was then at 11th and New Hampshire streets and was torn down in the 1970s.
Schwartz said he remembered breaking up fights with Broeker at the Oak Lodge, a former dance hall on U.S. Highway 59 that attracted youths from Ottawa, Kansas City, Topeka and Lawrence. He said Broeker liked to tear around the county's roads in the 440-horsepower, four-speed 1961 Dodge patrol car used at the time.
"I claim that was the fastest car I've ever driven. Man, it was hot, and Broeker was a fast driver," Schwartz said. "He really ripped those cars around."
A graveside service for Mr. Broeker is at 10 a.m. today at Memorial Park Cemetery.
Copyright 2017 The Lawrence Journal-World. All rights reserved. This material may not be published, broadcast, rewritten or redistributed. We strive to uphold our values for every story published.