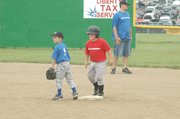 The Outlaws utilized three separate three-run innings to defeat the Liberty Tax Dodgers, 11-3, Saturday at 4-H Fields.
The Dodgers fell behind early when the Outlaws scored three in the top of the first. Outlaw Jordan Portela was responsible for all three runs as he hit a two-run triple and later scored.
Jalen Dudley added two more runs for the Outlaws in the top of the third when he had a two-run inside-the-park home run.
After falling behind 5-0, the Dodgers got on the scoreboard with two runs in the fourth. Dodger Jim Morton hit an RBI double and scored on a single by Reese Todd.
The Outlaws responded with a three-run fifth inning that featured a Dudley RBI double and a three-run sixth inning highlighted by Garret Romero's double, which plated two.
A last inning Dodger rally fell short despite a John Foster single that he scored on following a series of throwing miscues.
Copyright 2018 The Lawrence Journal-World. All rights reserved. This material may not be published, broadcast, rewritten or redistributed. We strive to uphold our values for every story published.