Anaheim, Calif. — Scott Niedermayer and defense partner Chris Pronger started and ended the Anaheim Ducks' penalty-box procession in the Stanley Cup finals opener.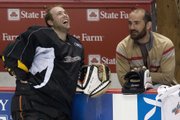 If the Western Conference champs don't figure out a way to cut down on the high-sticking, roughing, tripping, slashing, hooking and holding, the constant march to the box could turn into the most-watched springtime Southern California parade this side of Disneyland.
Niedermayer, the Ducks captain and the only member of the team to already have his name on the Stanley Cup, went off for high-sticking just 53 seconds into Anaheim's 3-2 win over the Ottawa Senators in Game 1 on Monday.
He was whistled again with 6:52 left for hooking. That gave Ottawa its sixth and last full advantage, but the score remained tied.
Not quite the veteran leadership the team is looking for heading into Game 2 tonight.
"I guess (I should) try to be a good example, which maybe I wasn't," he said with a laugh Tuesday after practice.
Pronger, in the finals for the second straight year, was called for stick-holding with 44 seconds remaining, leaving goalie Jean-Sebastien Giguere lunging and diving to keep the Senators from scoring the tying goal.
Just 45 seconds into Niedermayer's first penalty, the Senators had the lead - courtesy of Mike Fisher's goal. Ottawa also took a 2-1 edge in the middle period when Wade Redden scored 44 seconds into Ryan Getzlaf's cross-checking penalty against Mike Comrie.
"Those are unacceptable," Ducks coach Randy Carlyle said. "We want to limit the number of penalties. Simple as that."
Anaheim was the NHL's most-penalized team during the regular season and carried bad habits into the playoffs. The Ducks average 18.9 penalty minutes per game, the fourth-highest total in the postseason and the worst among teams to get out of the first round.
"You'd think I've never talked to the players about it," Carlyle said. "It's like your kids. Sometimes there's a thousand different ways to tell them, but it's a lot easier to say it than to live it."
Ottawa took advantage of two of seven power-play chances to raise its road power-play success rate to an astonishingly high 30.8 percent (12-for-39).
The Senators kicked themselves for not cashing in at least one more when they had a two-man advantage for 1:35 in the second period.
"Even with how poorly we played, if we scored on that 5-on-3 we'd probably end up winning," Senators forward Dany Heatley said.
Copyright 2018 The Associated Press. All rights reserved. This material may not be published, broadcast, rewritten or redistributed. We strive to uphold our values for every story published.