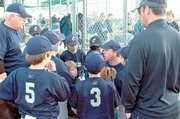 There's a thin line between building a player up and breaking a player down. Youth coaches walk that tightrope every day at practices and games as they work to get the most out of their players.
Sometimes coaches have to get after their players by yelling at them or chewing them out. In those situations, coaches say they do it because they expect the most out of a player and they want the best for him or her.
"You know what they're capable of," DCABA Clippers coach Steve Toalson said. "You know that they can do something - you know they can make a catch, they can make a play, they can make a throw - and when you don't see them make that effort, I do tend to get on them a bit."
However, Toalson said the coach-player dynamic would not work without a strong, positive relationship between the two.
"They know how I care for them," he said. "I love them. I love that they come out and they play and they hustle, and I love that the parents let me coach them."
Before a season starts, many coaches explain their expectations to their players so everyone will be on the same page.
"We tell them at the beginning that we're not going to yell at them for making mistakes," DCABA U9 Rebels coach Craig Stoppel said. "We're going to yell at them for not paying attention or if you're goofing around and messing up drills."
Phillipe McCree, coach of the Northeast Lady Prospects basketball team, said he sits down with players and their parents before the season and outlines why he and the program's other coaches will sometimes be hard on their players.
"If I'm yelling at you, that means I care about you," McCree said of his philosophy. "If I stop yelling that means you should be worried because I've given up on you at that point."
He said a coach must have high standards for his or her players.
"If you don't have a coach that is demanding a lot out of you then there's something wrong," he said.
Regardless of demands and expectations, coaches emphasized the importance of staying positive with their players.
"You break them down a little bit and you pick them back up," Stoppel said.
"Especially with girls basketball, you don't want to tear down, tear down, tear down. With every tear down there's got to be a pick up right behind it. There's got to be positive reinforcement," McCree said. "We get after our girls in our program, but at the same time we have fun."
What makes things even more difficult for coaches is the fact that every player is unique and will respond in his or her own way to a coach's critique.
"You have to learn the personalities, learn the players. Different players respond differently to different types of encouragement," Stoppel said.
"It works different with different kids. You want it to come out positive either way," Bret Toelkes, Lawrence Youth Football director and Hurricanes coach, said.
"You get a little tougher with some," he said. "Others you have to take a lighter approach. But it's not about making them feel better, it's about them understanding what you want."
Toelkes said the longer he works with a player, the better he understands how to approach different situations.
"You get to know them a little better as you go along and you try to read them a little bit and see where they're at," he said.
Kaw Valley Soccer Association director and coach Mauro Nobre said the toughest part of coaching is understanding a player's psychology.
"The main challenge for the coach," Nobre said, "is to harness their emotions."
He said emotions can drive a player in the right or wrong direction.
"They are really charged by emotions," Nobre said. "The coaches have to turn the players' sails to face the right way to catch that wind and propel it forward toward your goal."
Ultimately, coaches said they usually get a positive response from their players on occasions when yelling is deemed necessary.
"You see them understand the message that you deliver and take that for what it was and then go out and do something special," Toalson said.
"I have a great group of kids. They respond well," Stoppel said of his Rebels. "This is a team that was put together to play in tournaments. We tried them out, so there's a little bit more expectations than maybe some other teams that are out there."
McCree said his players almost always respond positively.
"I would say 95 percent of them respond well because it's kind of a disappointment for them where they're letting the coach down or letting the team down," McCree said. "Right after that they'll come back and and put a little more effort into it or correct whatever they did wrong."
Alexa Harmon-Thomas, 11, runs track and plays soccer for the Kansas City Comets. She said most athletes realize getting yelled at is a part of playing competitively, especially after making a critical error.
"We usually get motivated to do it right and just keep going," she said of most players' responses.
Harmon-Thomas said it is easier to take shouting in stride because coaches often later pull a player aside and teach them.
"They'll talk to you when you get off the field about what happened," she said. "They'll probably say how you could've fixed it or done it better and tell you to work on some different things."
Sixth-grader Keith Loneker, 11, plays fullback and linebacker for the Lawrence Hurricanes football team. He said he and his teammates usually hear from the sideline if they fail to convert in short- yardage situations or miss a sure tackle.
Loneker said players understand why they get yelled at sometimes.
"When we do we're OK with it because we usually know what we did wrong, so it's all right," he said. "We deal with it fine."
"Just knowing that you did it wrong and that you've been taught not to do it so many times" is the toughest part of mistakes, he said.
But players quickly learn to suck it up after mistakes and move forward.
"We'll just say, 'Yes, sir,' and try not to do it next time," Loneker said.
Copyright 2018 The Lawrence Journal-World. All rights reserved. This material may not be published, broadcast, rewritten or redistributed. We strive to uphold our values for every story published.