Founded in 1858, Baker University is the oldest four-year college in Kansas.
But throughout that time, the school has not had a person carrying the title of provost, the second-in-command to the university's president. That changes today with the announcement of Randy Pembrook as Baker's provost and executive vice president for academic affairs.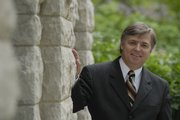 "I think the transition is going to be one of the interesting things - just to see how you make something that's new work within an existing system," Pembrook said.
Pembrook, 51, comes to Baker from the University of Missouri-Kansas City, where he has been dean of the Conservatory of Music and Dance.
His job will be to ensure that the roughly 3,900-student school is meeting its academic and strategic goals at all of its campuses: the main campus in Baldwin City, the graduate and professional school in Overland Park, and the nursing program at Stormont-Vail Regional Health Center in Topeka. He said that means working with the deans of Baker's four colleges to "lead the charge" for academic excellence.
"I really like to challenge people about: 'Tell me where you are; tell me where you want to be; and what are the things between here and there? What are the obstacles?'" Pembrook said.
Baker President Pat Long chose Pembrook from three finalists following a nationwide search.
Long, who worked with Pembrook for about six years when she was a vice chancellor at UMKC, cites Pembrook's experience with issues such as enrollment and accreditation and the success of a recent fundraising drive for the UMKC conservatory as some of his strengths.
"Students seem to love him. : He knows the area, knows the region, and he just seemed to have this real desire to come work at Baker," Long said.
Pembrook, who grew up in rural Illinois playing the trumpet and singing, has a Ph.D. in music education from Florida State University. He and his wife, Mary Jo Lorek, a faculty member at the UMKC conservatory, have two teenage daughters.
Copyright 2018 The Lawrence Journal-World. All rights reserved. This material may not be published, broadcast, rewritten or redistributed. We strive to uphold our values for every story published.