Concord, N.C. — Casey Mears looked wide-eyed around Victory Lane, astounded by the celebration surrounding him.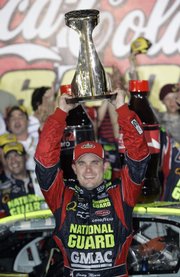 He gambled his way to his first Nextel Cup win, stretching his fuel to the finish line in the Coca-Cola 600 on Sunday night.
It put a Mears back in Victory Lane on the biggest day in racing for the first time since 1991, and the nephew of four-time Indianapolis 500 champion Rick Mears was overwhelmed by the moment.
"My uncle won four races on this day, and what a special day just because of that," Mears said with tears in his eyes.
"My family has had an unbelievable history of racing, and I've always wanted to make my mark with my family. We've got a long ways to go, a long ways to go, and a lot of races to run, but it sure feels good to win today."
Struggling through his first season at elite Hendrick Motorsports, Mears ran strong all night at Lowe's Motor Speedway, but only took the lead when others ducked onto pit road for a splash of gas.
The No. 25 team - considered the weakest of Hendrick's four-team fleet - pushed its Chevrolet to the finish, finally running out of gas moments after Mears took his first checkered flag. It was Hendrick's fifth straight win and the ninth in the past 10 Nextel Cup races, but came from the unlikeliest driver.
Jeff Gordon, Jimmie Johnson and Kyle Busch have all won races this season, but Mears came into the race 35th in the standings with only one top-10 finish.
So when Mears reached the Victory Lane celebration - where his parents were sobbing with pride, and Johnson, his best friend, joined the party - he needed a moment to make sure it was real.
"Actually, let me look at this for a second," he said, turning to look at the scoring tower.
J.J. Yeley, like Mears considered one of the drivers in jeopardy of losing their ride to make room for free agent Dale Earnhardt Jr., finished second for the first top-five finish of his career.
Kyle Petty was third - his first top five in 10 years - and quickly praised Mears, who was friends with Petty's late son, Adam.
"I couldn't be more excited for Casey Mears if his name was Adam Petty," Petty said. "I am tickled to death for Casey Mears. I want to tell you something: That kid got what he deserved tonight. I want to say, on the record, a lot of great things are going to come for that kid."
Reed Sorenson was fourth, and Brian Vickers was fifth in the highest finish this season for Toyota.
In fact, the top five all celebrated their best result of the year.
Tony Stewart, who seemed to have the win in the bag after Johnson gave it away in the pits, wound up sixth after figuring he was two laps short on fuel and had to make a late stop.
Copyright 2018 The Associated Press. All rights reserved. This material may not be published, broadcast, rewritten or redistributed. We strive to uphold our values for every story published.