Photo Gallery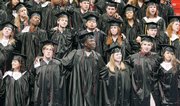 Lawrence High School graduation
Krystal Kayhill had officially graduated from Lawrence High School, and one major thought entered her head.
"It's just a big, huge relief that we don't have to worry about homework every night," she said.
Kayhill admitted bigger challenges were to come, as she plans to attend Haskell Indian Nations University in the fall. But Sunday she celebrated with her graduating class of 413 students, whom she called a diverse group that got along well.
LHS administrators and Lawrence school board members were happy to honor the LHS Class of 2007, which was lauded for achievements in academics, activities and athletics. Principal Steve Nilhas remembered a class that exhibited strong school spirit.
"Rest assured the feeling is mutual," Nilhas said. "LHS loved you all as well."
Administrators had decided Friday to move LHS and Free State High School graduations into Kansas University's Allen Fieldhouse because of construction around KU's Memorial Stadium. The fieldhouse was stuffy for the 1 p.m. ceremony, and several in attendance fanned themselves with programs or took breaks to find cooler air.
But family and friends mixed in loud cheers and air horns at different times to honor the graduates. G.R. and Amy Laughlin said they were happy to see their oldest daughter, Brittany Ann, graduate despite the heat inside the fieldhouse.
In a speech she delivered at both ceremonies, Sue Morgan, Lawrence school board president, urged graduates to take action as they moved forward.
"The future is not where you are going, guys. It's what you are creating, and education is your ticket to create a better future for all of us," she said.
In a joint address, graduating students Julia Barnard and Sam Huneke - who was one of the class valedictorians - characterized the class as hard-working.
"We have years left in our young lives, ones in which to mature and develop," Barnard said.
Kelsey Pinnick told her classmates their high school experience provided them with necessary tools.
"Now it is our job to start painting a picture and living our lives," she said.
Student Amanda Weishaar was honored as LHS Citizen of the Year, and English teacher Mike Carriger was named Outstanding Teacher of the Year, awarded by the senior class.
Before the ceremony, Mercades Beckum, who plans to attend Johnson County Community College, said she was ready to move on but cherished her favorite high school memories, like senior prom.
"I'm excited, nervous and scared," she said.
Jeremy Bell calmly stood in line waiting to take his seat. He is trying to finalize plans to attend Washburn University in Topeka to study industrial technology and business administration, an interest he discovered at LHS.
"I'm ready for graduation to start and to get it over with, so I can see where the rest of my life is going to go," Bell said.
Chase Johnson plans to attend KU in the fall to study business. The line of classmates in front of him couldn't move fast enough.
"Let the party begin. I'm done and just going to celebrate," he said.
Lawrence High School class of 2007
These Lawrence High School students graduated on Sunday:AnneMarie J. Ahlert, Syed F. Ahmed, Jasmine C. Al-Mulki, Fatima M. Alenezy, Ella K. M. Altenbernd, David G. Anderson, John M. Anderson, Sam W. Anderson, Travis W. Andregg, Kimberly Anorath, Hillary F. Anthony, Joseph W. Armstrong, Angelika Arts, Thomas W. Ashe, Nicholas S. Atwell, Kale P. Atwood, Cedric T. Austin, Matthew C. Austin, Matthew W. Avila, Sydney N. Ayala, Zachary J. Bachert, Brock R. Bailey, John A. Barber, Julia A. Barnard, Marcus L. Barnoskie, Derek C. Battiest, Alexandria M. Beckum, William N. Beebe, Jill L. Been, Jeremy D. Bell, Paul P. Bender, Daniel P. Bentley, Lucas M. Bergstrom, Aysylu N. Biktimirova, Shane M. Billig, Kasandra L. Birch, Jesse A. Birdling, Travis W. Bland, Elena N. Boeth, Brett T. Bohmann, Adam M. Booth, Timothy M. Borer, Rebecca L. Bost, Trenton L. Boster, Kayla R. Bowers, Caitlin H. Bowlin, Lillian L. Boyce, Amy L. Breithaupt, Kaitlan E. Brenn, Tanille S. Bressler, Janae C. Britt, Keisha J. Brown, Malcolm J. Brown, Taylor L. Brown, John O. Brubaker, Calib T. Bryson, Alaa G. Bukhari, Genevieve R. Busby, Kevin J. Calton, Laura M. Carley, Marrisa J. Carley, Luke R. Carlson, Lydia M. M. Caron, Ashlee E. Carr, Jose I. Carvajal-Regidor, Stephanie K. Castor, Nicholas A. Chance, Daniel K. Chandra, Spencer B. Chapin, Rebecca L. Chappell, Loan A. Chau, Micaela Chavez, Sarah A. Clark, Sarah L. Clark, Samantha B. Claypool, Jesse E. M. Coatney, Logan G. Cochran, Amber L. Coffman, Natalie A. Colamarino, Whitney E. Coleman, Tara D. Collins, Katlyn R. Conroy, Derek R. Cook, Tara L. Cook, Emily K. Coon, Christopher R. Coons, Amber N. Cooper, Michael D. Copeland, Kyle J. Craig, Arsenio J. Criss, Justine E. Cross, Vincent L. C. Culp, Abbey L. Curtis, Lacey J. Dasenbrock, Laura M. Davis, David N. DeBiasse, Richard M. Demby, Bryant M. Denning, Kaylee M. Denning, Skyler Detherage, Brianna L. Di Iorio, Jessica M. Dirks, Rebecca C. Dirks, Chelsea R. Dirks-Ham, April C. Dodge, Sam R. Donnell, Lillian J. Duermeier, Mark S. Dunlap, Jesse L. Edmonds, Kayla R. Eidson, Kristina M. Erskin, Mette Esbensen, Jasmine C. Escobedo, Jeremy Q. Evans, Ethan E. Ezell, Uliti W. Fangupo, Emmett L. Farmer, Kimberly L. Ferguson, Christopher D. Fieger, Paul R. Finch, Kathleen N. Finnegan, Jay F. Fishburn, Madeline J. Fister, Colin D. Flanders, Ann E. Flory, Kelly M. Forsyth, Jessica M. Foster, Kendall S. Francisco, Amanda J. Fredrickson, Anthony W. Frei, John W. Frick II, Kylie E. Fritzel, Diana N. Fuentes, Austin J. Fuller, Danielle R. Gaffney, Travis D. Gage, Matthew Q. Galloway, Rachel L. Gardner, Matthew C. Gelvin, Hanna L. Gentry, Megan S. Gentry, Andrea M. Gilliam, Steven S. Glasker, Megan M. Glotzbach, Ian D. Golden, Kelsey N. Golden, Steven A. Gonce, Heather M. Goodin, Brandon L. Goodwin, Elizabeth M. Gragg, Ian J. Graham, Daniel T. Green, Jessica L. Green, John O. Green, James A. Greenfield, Katelin R. Grom, Andrew D. Grover, Jordan S. Guntert, Timothy A. R. Hagen, Kandice M. Hall, Spencer E. Hamm, Maxwell M. Harrell, Casey S. Harrington, Samuel L. Harwood, Kyle J. Hatfield-Hackl, Daryl S. Hayes Jr., Samantha J. Hays, Matthias L. E. Heilke, Kelly E. Heiman, Jamie L. Henderson, Kendra L. Hermann, Joshua L. Hertlein, Zachary T. Hertzel, Erika S. Hierl, Dane G. Hill, Rebecca L. Hinshaw, Scott K. Hird, Katelyn S. Hobbs, Kyle W. Hodge, Brandon T. Holland, Kaley O. Houk, Brian A. Houle, Jessica C. Hovland, Andrew C. Hulse, Samuel C. Huneke, Evan M. Hunter, Mary Ann E. Ikhimokpa, Dustin F. Jacobsen, Shawn A. Jimboy, Charnele M. Johnson, Elizabeth A. Johnson, Jeremy V. Johnson, Patrick W. Johnson, Steven C. Johnson, Abby M. Jones, Garrett W. Jones, Nolan P. Kappelman, Krystal L. Kayhill, Kara R. Kellison, Lauren E. Kelly, Lindsay A. Kemple, Dean M. Kemppainen, Olson J. Kilmer, Benjamin C. Kincaid, Courtney N. Kincaid, Ryan G. King, Marianne E. Klovning, Ivy M. Knight, Jaime L. Kreczmer, Tara S. Kreie, Nicole R. Krische, Michael C. Krumm, Leland J. Kueser, Jeremy J. Landon, Benjamin W. Langston, Christine D. Laskowski, Daniel E. Lassman, Tyler K. Lau, Brittany A. Laughlin, Jaeryong Lee, Brittany N. Lentz, Briana J. Lewis, Isaac S. Lewis-O'Connor, Mallory J. Liss, David T. T. Liston, Jason M. Little, Theresa R. Little, Ji S. Liu, Kevin M. Logan, Jessica A. Long, Lisa L. Lord, Alyssa G. Lorenz, Jacob R. Lorenzo, Eric C. Loux, Emily A. Loyd, Michael B. Ludwick, Lisa D. Madison, Logan T. Marienau, John-Francisco A. Marino, Brooke A. Massey, Katherine E. Mather, Nicolette J. Matthews, Erin M. Mayer, Katie M. McClain, Jenny R. McGee, Sara M. McGuire, Taylor D. McIntyre, Jace C. McNabb, Kyle G. McTaggart, Emma K. Mercer, Mark H. Mercer, Alison K. Mesler, Austin K. Meyers, Zachary A. Michael, Tiffany Miller, Amanda S. Moeller, Kelsey P. Montgomery, Megan A. Moore, Robert P. Moore Jr., Kelley L. Morain, Kelly B. Morgan, Emily J. Moseley, Daniel M. Moses, Joseph C. Muiller, William D. Nagengast Clare O. Nderagakura, Ian A. Nelson, Sequoia A. S. Newman, Erik A. Nice, Emilie M. Nikodym, Marion J. Novotny, Kristen L. Ohlemeier, Scott K. Ollila, Edward D. Olson, Trevor J. Pacheco, Nathaniel B. Padia, Christopher J. Paradies Daniel R. Parker Edward J. Parker, Mindy L. Parmer, Jenna D. Pash, Gregory M. Payne, James C. Payne, Jeremy M. Peaches, Crystal D. Pedram, Samantha B. Pedraza, Joshua A. Penaloza, Cassandra R. Pennewell, Kristin W. Penny, Tara K. Perdue, Hannah E. Peterson, Kelsey E. Pike, Kelsey L. Pinnick, Alexander S. Plotnikov, Anthony I. Pokphanh, Jacob R. Pool, Jessica R. Potter, Kaylie J. Price, Caleb J. Quaye, Morteza Rabii, Katelynn J. Ragland, Jerimiah C. Rapada, Dustin M. Ray, Brittney D. Raybern, Daniel D. Reed, Edward J. Reed, Jessica L. Reeves, Henry J. Reiske, Emily J. Renfro, Taylor J. Renfro, Vanessa N. Rials, Chance M. Riley, Caitlin A. Roach, Bryant D. Roberts, Brittany A. Rodriguez, Matthew V. Rogers, Angela N. Romero, Nicholas Romero, Nathan D. Roush, Michael J. Rubow, Genevieve M. Rucker, Christopher L. Russell, Claudio A. Salazar-Lopez, Chase M. Samuels, Abhimanyu D. Sandal, Maryl K. Sartin, Jacob F. Schultz, Justin P. Schuyler, Brandon S. Schwager, Elise F. Sechler, Sydney K. Seratte, Audrey L. Seybert, Chelsea K. Sharbono, Zachary L. Shawano, Samual D. Shelton, Amanda I. Sheppard, Cody G. Sherman, Lydia R. Shontz, Leanna R. Siefkas, Andrew P. Sigler, Jalisa R. Simms, Jaimee L. Simpson, Jessica T. Sims-Gousse, Gina E. Skinner, Marin M. Skoro, Ashley M. Smith, Dylan H. Smith, Paula M. Smith, Kyle T. Snyder, Hannah E. Somers, Samantha M. Sparkes, Dequesne D. Sprow, Nicole M. Stallings, Jeffrey D. Standing, Daniel S. Stemmerman, Evelyn J. Stites, Riley K. Storm, Sadie D. Stringer, Adrienne L. Struble, Rose K. Tarman, James S. Taylor, Michelle M. Taylor, Walter M. Teal, Alyssa C. Thiel, DeShaunta R. Thompson, Matthew C. Thompson, Heather D. Tidd, Sydnei E. Tolefree, Patrick M. Tomei, Andrew J. Torres, Emily C. Torres, Andrew R. Toyne, Minh T. Truong, Olena A. Tsiovkh, Adrian S. Tubbs, Mark E. Turner, Michael J. Valverde, Joseph M. Varberg, Brandy M. Vervynck, Abby H. Vestal, Riley M. Vogel, Allyson K. Voss, Clarissa A. Wagner, Nicholas W. Wagner, Phillip J. Wahwahsuck, Joanna M. Wakeman, Will H. Watts, Brianne E. Webber, Cody R. Weber, Alex J. Webster, Sarah A. Wehrle, Maya C. Weil, Amanda M. Weishaar, Alexia S. Welch, Darren E. Wesbecker, Jenica L. Wessels, Austin Y. Whipple, Joel T. White, Antonio C. Williams, Jessica L. Williams, Kati M. Williams, Michael T. Willmert, Andrew J. Wilson, Tracy L. Wilson, Matthew F. Windheuser, Matthew G. Wingert, Brittany L. Wisdom, Kaitlin J. Woolery, Kevin C. Workman, Amanda M. Wright, Natacha R. Wright, Sylvia R. Yimer and Baoqing Zhou.
Copyright 2018 The Lawrence Journal-World. All rights reserved. This material may not be published, broadcast, rewritten or redistributed. We strive to uphold our values for every story published.