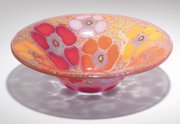 In the 1940s and '50s, creative glassmakers who worked in their own styles were experimenting with new ways to shape and decorate glass. Michael Higgins and his wife, Frances, both artists, began making fused glass using an old method. But they used new, colorful designs. A piece of glass was decorated, then a second piece of glass was placed on it like a sandwich. The sandwich was put into a mold and heated. The glass slumped (bent) into the shape of the mold, with the design inside the two pieces of glass. The finished ashtray or bowl was durable and eye-catching. By 1962, other glassmakers had discovered that glass could be shaped at lower temperatures in small furnaces, and artists began to study glass forming and design. Michael and Frances Higgins made glass until the 1990s. Their useful glass candlesticks, ashtrays, bowls, boxes and plates were shipped from the Dearborn Glass Co. near Chicago and sold in stores in all parts of the United States. The pieces were not considered "art" until collectors discovered them in the late 1980s. Because Michael and Frances made commercial wares, there is still much Higgins glass to be found. The unusual glass and the modern designs make it easy to recognize at a sale. Prices today range from $75 for an ashtray to thousands for a glass screen made of circles of glass. Look for Higgins glass. Most of it is signed.
Current prices
Current prices are recorded from antiques shows, flea markets, sales and auctions throughout the United States. Prices vary in different locations because of local economic conditions.¢ Kellogg's letter opener, celluloid, figural, "We Can't Help Crowing Once in a While," rooster head, made in Germany, 2-by-8 inches, $90.¢ Red Wing Pottery advertising mug, West End Commercial Club, St. Paul, June 21-26, 1909, $165.¢ Bohemian glass vase, blue zigzag ribbon design, mottled red, ivory ground, c. 1925, 11 1/2 inches, $180.¢ Welsh cupboard, fruitwood, three dovetailed drawers, pierced iron pulls, lower shelf, 1930s, 31-by-70 inches, $1,300.¢ Levi Strauss trade card for 1915 Pan Pacific International Exposition, foldout, Levis shape, opens to show view of 16 different people wearing jeans, 3 3/4-by-7 3/4 inches, $230.¢ Brass pipe tamper, portrait of Queen Anne on one side, dated 1704, $325.¢ Panda bear, long plush fur, white glass eyes, stitched nose, downturned snout, gruff looking, c. 1880, 24 inches, $350.¢ Paul Revere Pottery creamer, three chicks, blue band, ivory ground, marked, 1913, 3 inches, $735.¢ Charlie McCarthy Benzine Buggy toy, tin windup, 1930s, Marx, 7-by-36 inches, $750.¢ Copper and silver tea service, hammered finish, applied bunches of grain, bird, butterfly and floral design, kettle stand with four ball-and-claw feet, Gorham, c. 1902, $5,100.
Q: I have an unusual bridge table. When a deck of cards is put into a compartment on the side, it travels around the table on a track and sends the cards to compartments in front of each player. The table is marked "Hammond Electric Bridge Table." I have had it for about 60 years.
A: Electric bridge tables must have been very popular. We are asked about them several times a year. Laurens Hammond owned the Hammond Clock Co. of Chicago, the maker of the table. The company also made electric clocks and electric organs. Hammond made about 12,000 bridge tables in 1931 and '32. The tables sell today at antique events for about $375.
Q: I came across a small silver-plated mantle clock when I was cleaning out my mother's house. The clock face is marked Waterbury Clock Co., but the back is embossed with a different mark: "Benedict Viking Silver, 1891" around a diamond shape enclosing a winged insect. The silver case is a shade of pink. Can you tell me age and value?
A: Waterbury Clock Co. made your clock for Benedict Manufacturing Co., probably around 1910-20. Waterbury, located in Waterbury, Conn., was a major American clockmaker from 1857 into the 1940s. Benedict Manufacturing made silver-plated hollowware in East Syracuse, N.Y., from about 1891 (the date on your clock) until the early 1950s. In the early 1910s, Benedict introduced its Viking line of decorative silver. The line included not only vases and trinket boxes, but also desk sets and clocks. Your clock's case may look pink because the silver plating has worn down a bit, showing the base metal. In its present condition, assuming the plating is not in good condition, your clock would sell for about $50.
Q: I have a collection of hand-painted ceramic birds that are extremely fragile and extremely dirty. Most of the dirt was caused by the two smokers in my house. Is there a safe way to clean these birds?
A: We hear from a lot of collectors with your problem. Anyone with smokers in the house faces a difficult job when trying to clean pottery and porcelain that's been displayed in smoke-filled rooms. Try soap and water first and gentle scrubbing with a soft toothbrush in the crevices. If you're not satisfied, try diluted dishwasher detergent. If the porcelain is decorated over the glaze, it might be impossible to remove all of the smoke residue without damaging the decoration, especially any gold trim.
Q: When we were packing up the house before we moved a few months ago, we found a small plastic figure of a little boy named Dilly Dally. A lever on his back opens and closes his mouth. I remember getting him when I was a kid (I'm 60 now), but I don't remember much else. Please help.
A: Dilly Dally was one of several puppet characters on "Howdy Doody Time," a popular children's TV show that ran on NBC from 1947 to 1960. In 1955, a company called Tee-Vee Toys sold a series of Howdy Doody plastic puppets, each about 4 inches tall and mounted on a card. There were five figures in the set, including Dilly Dally, Howdy Doody, Mr. Bluster, Princess Summer-Fall-Winter-Spring and Clarabelle. A complete set of the puppets on their cards and in near-mint condition, could sell for more than $200. Your single figure, without the card, might sell for about $10-$15.
Tip: If you want to clean a bottle that has a paper label, try to protect the label. Wrap the bottle tightly in thin plastic wrap. Seal the wrap with tape and rubber bands. Clean the inside carefully, using a mixture of water, automatic dishwasher detergent and slightly abrasive kitty litter. Fill bottle part way and shake.
¢
The Kovels answer as many questions as possible through the column. By sending a letter with a question, you give full permission for use in the column or any other Kovel forum. Names and addresses will not be published. We cannot guarantee the return of any photograph, but if a stamped envelope is included, we will try. The volume of mail makes personal answers or appraisals impossible. Write to Kovels, (Lawrence Journal-World), King Features Syndicate, 300 W. 57th St., 15th Floor, New York, NY 10019.
Copyright 2018 The Lawrence Journal-World. All rights reserved. This material may not be published, broadcast, rewritten or redistributed. We strive to uphold our values for every story published.