Former Kansas University pole vaulter Tom Hays, who placed in four of six Big Eight Conference track meets in the late 1980s, knows all about the Jayhawks' rich history in the event.
The former McLouth High standout, whose jump of 15-0 still ranks No. 1 in Kansas Class 2A history, is a former training partner of former American record holder and KU great Jeff Buckingham.
He's a current golfing buddy of Olympian Scott Huffman and former teammate of Pat Manson, who has cleared 18 feet an unprecedented 21 consecutive years.
What's more, as a KU assistant coach in charge of the vault the past three years, he's acquainted with the list of other Jayhawks who have won indoor and outdoor league pole vault titles: John Bazzoni, Don Bird, Chris Bohanan, George Cash, Clyde Coffman, Jim Floyd, Gordon Gray, Bill Hatcher, Mariam Howard, Jan Johnson, Floyd Manning, Marvin Metzger, Ray Noble, Terry Porter, Carey Rogers, Tad Scales, Norm Steanson, Jack Stevens and David Tams.
"It's a small fraternity. It's easy to get to know those guys," said Hays. "Scott Huffman (who lives in Lawrence) is always excited about Kansas track and field. Anything that can help KU, Scott is in the lead. Pat was here (from Denver) for the Relays again. He's excited. Jeff Buckingham (of Gardner) is excited."
The excitement stems from the fact that KU, after a decade-long drought, is back in the men's pole vault business.
Jordan Scott, a freshman from Watkinsville, Ga., recently won the Big 12 outdoor championship with a leap of 18-21â2 and enters today's NCAA Midwest Regional at Drake tied with Northern Iowa's Andre Polijanec for the top jump in the country.
The same Scott won the Big 12 indoor title with a jump of 17-51â2.
"I don't know what his potential is," Hays said of the newcomer out of Oconee County High School. "I am hoping it is unlimited. You don't get too many freshmen ever to jump 18 feet. Our school record is Jeff Buckingham's 18-103â4. I would think that's in his reach. I think that's in his mind.
"We've had Pat and Scott, who both jumped over 19 feet (in international meets). I think he could jump with those guys. The big thing is to keep him grounded and injury free."
Keeping Scott grounded does not figure to be a problem.
The Georgia state high school record holder (16-7) is taking his early college success in stride.
"I was not expecting that at all," Scott said of sweeping the conference titles. He's KU's first outdoor champ since John Bazzoni cleared 17-4 in 1995 and first indoor champ since Bazzona went 16-8 in '96.
"This is more than I could have hoped for."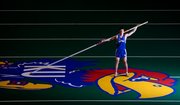 Deep down he was hoping to clear 18 feet his rookie season, figuring that mark would indicate steady progress.
"I've been wanting 18 since my senior year of high school. It never clicked for me. I wasn't getting much higher," Scott said. "Something finally clicked. Coach Hays taught me a few key points that helped me get up there."
His 18-foot leap May 12 in Lincoln, Neb., was a personal record by nine inches.
"I jumped differently than I ever have. It was more on the takeoff," Hays said. "I planted the pole to where I was taller and stretched more. It allowed me to keep my feet back and go straight upside down instead of kicking at the bar like I always have.
"I know I've done it once. Maybe I can do it again."
He's hoping for a top-five finish at regionals that would automatically put him in the NCAA meet, June 6-9, in Sacramento, Calif. It's likely his height at Big 12 Outdoor will qualify him for nationals regardless.
"I am definitely motivated to win nationals if I get there. That would be so big for me," Scott said. "I don't know how I could handle that. It'd take the best day I ever had."
He's planning on staying in Lawrence all summer and continuing to work out, homesickness be darned.
"I miss all my friends and family," he said, noting not many Southerners attend KU. "There are a lot of people from Texas. That's southern," he cracked.
KU beat out true Dixie schools Georgia, Clemson and South Carolina in recruiting.
"It was tough," Hays said. "We've been in the game a while and had a lot of good pole vaulters. When they (prospects) ask how does KU do ... we have some advantages in particular with the history of the pole vault."
Indeed, Scott knows of KU's tradition and hopes to add to it.
"I've met Scott and Pat but not met Jeff Buckingham yet," he said. "They are cool guys. They help me out a lot. I just hope to continue it. It'd be awesome."
Hays will continue to recruit top preps in the event.
"I'd love if high schoolers chose to come here because of the vaulters we have," Scott said. "It's be an amazing feeling to help bring it back."
Copyright 2018 The Lawrence Journal-World. All rights reserved. This material may not be published, broadcast, rewritten or redistributed. We strive to uphold our values for every story published.