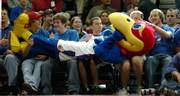 As a new student at Kansas University, knowing where Allen Fieldhouse is located can do nothing but help you.
Love basketball or hate it (you'll find out soon that most of this town can't live without it), it's need-to-know data.
Why, you ask?
Well, if you're ever lost on campus, odds are that someone in the know giving you directions will tell you its location relative to the old barn.
Seriously. Don't believe me? Just try it. Example:
Joe Shlabotnik: "Hey, can you tell me where the Kansas Union is?"
Mary Shlabotnik: "OK, well, you know where the Fieldhouse is?"
JS: "Yes."
MS: "All right. Say you're facing the front of the Fieldhouse. Turn right and make your way up that hill, which will leave you gasping for air unless you were an All-American cross country runner in high school. Then turn right and go through a roundabout, which if you're not careful while crossing, will land you in the hospital. Then follow Jayhawk Boulevard straight, and once you get to a point where there's this huge building on your right with two little flags on top, can't remember the name of it, the road will bend left. Keep following it, and it'll be the second building on the left. Don't breathe in over there, because nobody knows what's in those rampant bus fumes ..."
JS: "Uh ... thanks."
Now don't get me wrong, because that building is something else. If you're a new student, especially one from out-of-state like I was back in fall 2000, watching a game in that place will make any other college basketball experience you have in your life feel like going from Jolt Cola to caffeine-free Diet Coke. Plus, the steel-and-brick construction is so indestructible that it'll probably be just as majestic when your kids are in college someday. And if you're not into hoops, you'll know where it is because right behind there is where the parking department will take most of your "entertainment" funds over the next four years.
But as far as sports in Lawrence go, don't let that be your sole destination.
This short list can give you a Jayhawk sports knowledge base which stretches outside of the basketball court. Fewer than you'd think can actually claim that.
1) Storm the field ... just once.
In each of the last four seasons, KU football fans have had the opportunity to tear down the 'posts. With a home schedule this year that includes just Nebraska as a potential visiting favorite on Nov. 3, that could be your only shot.
2) Take in the first nice-weather baseball game of the year.
You know that fuzzy feeling in your legs the first day you can bust out the shorts and enjoy beautiful spring weather? The same can be said for the first time you can take in a baseball game without bundling up. Even if you're not a baseball fan, take a book out to Hoglund Ballpark on the first warm, sunny gameday of the year. You'll feel better for it.
3) Go see a team you never thought you would.
If you want an idea, here's a good one: volleyball. The Horejsi Family Athletic Center is, where sports are concerned, this campus' best-kept secret. The gym frequently fills to capacity, can get rowdy for big games and has all the charm you could want, with the pep band and a loyal legion of fans named Ray's Boys. It's adjacent to the southwest corner of Allen Fieldhouse (See? Told you it'd come in handy.)
4) Camp out for at least one hoops game.
OK, had to include basketball on this list. If you can get a small group together, camping for games as a freshman can be a memorable experience, and no "in my time at KU" checklist is complete without it. Whether you spend time in the Fieldhouse hallways sleeping, studying or playing XBox while camping, it can instantly make you a true part of the Jayhawk Nation.
Oh yeah, I should probably mention that Allen Fieldhouse is at 1700 Naismith Drive. MapQuest it.
Copyright 2018 The Lawrence Journal-World. All rights reserved. This material may not be published, broadcast, rewritten or redistributed. We strive to uphold our values for every story published.