Dubai, United Arab Emarites — Ships packed with 17,000 sailors and Marines moved into the Persian Gulf on Wednesday as the U.S. Navy staged another show of force off Iran's coast just days before U.S.-Iran talks in Baghdad.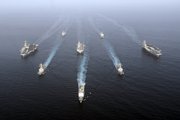 The carrier strike groups led by the USS John C. Stennis and USS Nimitz were joined by the amphibious assault ship USS Bonhomme Richard and its own strike group, which includes two landing ships carrying 2,100 members of the 13th Marine Expeditionary Unit.
Aircraft aboard the two carriers and the Bonhomme Richard were to conduct air training while the ships ran submarine, mine and other exercises.
The war games - which culminate in an amphibious landing exercise in Kuwait, just a few miles from Iran - appear to be a clear warning to Tehran, coming just ahead of the Baghdad talks and as the United Nations contemplates tightening sanctions against Iran over its nuclear program.
"There's a link to both events," said Mustafa Alani of the Dubai-based Gulf Research Center. "The Americans are sending a message to Iran that they are not coming to the negotiating table weak, but with their military at Tehran's doorstep."
Washington is also showing Iran that the U.S. military will act to defeat any Iranian war strategy of closing the straits, which Iran shares with Oman, Alani said.
U.S. and Iranian ambassadors are to meet Monday in Baghdad to discuss Iraq's security issues. Tehran has objected to U.S. claims that Iran is supplying Iraqi Shiite militias with roadside bombs that kill American troops.
The U.S. has also accused Iran of covertly developing nuclear weapons; Iran says its nuclear program is peaceful.
Publicly, at least, the Navy isn't saying the maneuvers, which are expected to last several weeks, are directed at Iran.
"The timing of the exercise was determined by the availability of forces in the area of operations," said Lt. John Gay, spokesman for the Bahrain-based U.S. 5th Fleet. Warships under 5th Fleet command patrol the Gulf, Arabian Sea and Indian Ocean.
Copyright 2018 The Associated Press. All rights reserved. This material may not be published, broadcast, rewritten or redistributed. We strive to uphold our values for every story published.