SAN ANTONIO — Only two games into the Western Conference finals, Tony Parker and the San Antonio Spurs already are toying with Utah.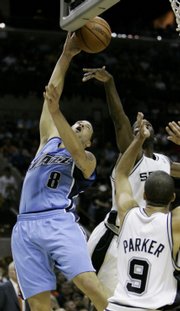 Their big tease Tuesday night: Build a big lead, see it shrink a little, then bury the Jazz with three-pointers.
Parker made it all possible, using his speed to the basket to draw in the defense, then finding his shooters time and time again to help the Spurs beat the Jazz, 105-96, for a 2-0 series lead.
The San Antonio point guard scored 17 points and had 14 assists, his most in a playoff game. Many came on tosses into the corners, setting up Brent Barry for his trio of threes in the second quarter and Bruce Bowen for his three threes in the fourth quarter. San Antonio shot 55.4 percent for the game and was 13-of-26 from behind the arc, setting a franchise playoff record for made threes.
"That's what they're giving us," Parker said. "Every time I penetrate, they're wide open. They're forcing us to make outside shots and tonight we made those shots."
Tim Duncan had 26 points and 14 rebounds and Manu Ginobili added 17 points as the Spurs moved halfway to reaching the NBA finals for the third time in five years. They got this close by outlasting the Phoenix Suns in a tense second-round series many considered the de facto conference finals, if not the NBA finals; so far, Utah has done little to dismiss that theory.
"We have to stay humble because we just got what's ours," Ginobili said. "We've got to do even better now to get one in Utah. Hopefully we'll show the same approach and concentration."
The Jazz never led in this game, and haven't led since the seventh minute of the opener. While Carlos Boozer bounced back from a poor game with 33 points and 15 rebounds, a second straight second-quarter meltdown left Utah trailing by 17 at halftime and 22 a few minutes into the third quarter. The Jazz got within seven in the final period, but were repeatedly turned away by big baskets from San Antonio's playoff-tested veterans.
"Every time we made a run, they made a three," said Deron Williams, who had 26 points and 10 rebounds. "Those guys stepped up and hit shots. We didn't do a good job of defending the three and it hurt us."
San Antonio's Michael Finley opened the game with a quick three-pointer from the left wing and the tone was set. Three of Finley's four baskets wound up coming from behind the arc. Ginobili had three of six, and Bowen and Barry hit nothing but threes.
"All of us were hitting shots," said Bowen, who was scoreless until his three from the left corner, off a pass from Parker, stopped an early fourth-
quarter run that had gotten Utah within seven points. He swished another shot from the right corner soon after, and the Jazz never made another strong rally.
"It seemed like every time we got back into the game, we'd shoot ourselves in the foot, kind of self-destruct," Utah coach Jerry Sloan said. "They just took advantage of our inability to see what's going on."
Now the Jazz are headed home trailing 0-2 for the second time this postseason.
They fought back in the first round against Houston, but Yao Ming, Tracy McGrady and the Rockets are no comparison to Duncan, Parker and the Spurs. Plus, there's this bit of history to overcome: Only two of the previous 57 teams to lose the first two games of a conference finals have advanced.
"We still have a chance," Williams said. "But I think it's a lot worse to be down 2-0 to the Spurs than the Rockets. They have championships and guys who know how to win. They're also a much better road team."
Sloan has several days to come up with something. Game 3 isn't until Saturday night, and the next two games will be in Salt Lake City, where the Jazz are 6-0 this postseason. They also went 2-0 against the Spurs there during the regular season.
"They're going to be a lot more confident playing in that building," Duncan said. "We're going to need to bring a much better effort than we had here to beat those guys."
Copyright 2018 The Associated Press. All rights reserved. This material may not be published, broadcast, rewritten or redistributed. We strive to uphold our values for every story published.