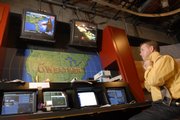 Most people in Lawrence probably don't know him, but they may very well depend on him.
If Matt Elwell gets something wrong, he will hear from plenty of people.
Elwell, a 6News meteorologist, goes to work early every morning to figure out what the weather is going to be like for the day.
"If we say it's going to rain and it's sunny and they cancel their picnic plans," Elwell says, "they get pretty mad at us."
Luckily, Elwell has the help of four high-tech computers, which he's manning at 4 a.m.
"I kind of have to be the king of multi-tasking in the morning," he says. "Sometimes you feel like you've got smoke coming out of the back of these computers, we've got them working so fast."
Right around 4 a.m., he knows the forecast and starts assembling the graphics of clouds, sunshine and whatever else the day is calling for that will show up on a television newscast later on in the day.
"Basically, I make cartoons for a living," he says.
He also make predictions. His prediction for today? Elwell says it will likely be a high of 79 degrees with a chance for rain in the afternoon.
"I wouldn't be surprised to see it hit 80 or 81," he says.
Turns out he was about right: The high on May 10 was 80 degrees. It didn't rain.
Copyright 2018 The Lawrence Journal-World. All rights reserved. This material may not be published, broadcast, rewritten or redistributed. We strive to uphold our values for every story published.