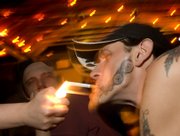 Justin Parr talks about his favorite time of day.
It's 1:15 a.m. and the band is overbearingly loud at The Jackpot Music Hall, 943 Mass.
Veteran Lawrence group Be/Non is onstage performing a frenetic warmup show before heading on a national tour. Twenty feet in front of the troupe, Justin Parr mans the soundboard, adjusting the balance between guitar and keyboard volumes.
"My ears are a little burnt," Parr says.
He credits that condition to a pair of "crass and abrasive" opening acts. But he appreciates Be/Non's "good, clean rock 'n' roll sound."
Parr, 28, works three or four times a week at the Jackpot or its sister venue, The Replay Lounge, 946 Mass.
Decked in a black "Turnpike" shirt and sporting ultra-curly hair and beard (think James Brolin in the original "Amityville Horror" flick), Parr looks like he might be more comfortable on the stage. In fact, he is the drummer for the all-star Lawrence act The Diamond Heart Club.
"(Running sound) is what I do for a living. Playing in bands is what I do for fun," he says.
After Be/Non's final notes of the night fade, Parr downs his customary shot of Jägermeister before wrapping up cables and putting away microphones.
Just then a loud crash rattles through the bar.
A patron at the smoking area by the entrance has accidentally stumbled backward through the front window, sending shards of glass flying.
It's just another noisy aspect of the evening that is somewhat out of Parr's control.
Copyright 2018 The Lawrence Journal-World. All rights reserved. This material may not be published, broadcast, rewritten or redistributed. We strive to uphold our values for every story published.