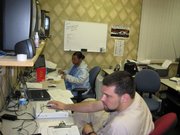 While most of Lawrence is sound asleep, Sharon Cobbinah is wide awake, albeit sipping on a can of caffeinated Pepsi.
Cobbinah, 32, of Kansas City, Mo., is a technician for somniTech that contracts with the Lawrence Memorial Hospital Sleep Center on Clinton Parkway.
Cobbinah and Jeff Asbury, 26, of Kansas City, Kan., are monitoring three patients. It takes about 45 minutes to hook up each subject to monitors that track sleep stages, airflow, respiration, snoring and oxygen saturation. They also are tracking "events," or times when a patient stops breathing for a moment because of sleep apnea.
"Most of the time you are extremely tired," she says of people with sleep problems. "We see a lot of truck drivers, shift workers and the elderly."
Cobbinah works three 15-hour days each week, which is not exactly conducive to, in her case, a good day's sleep. "If I get four to six hours sleep, I'm fine," says the mother of an 8-year-old boy and a 2-year-old girl. She admits her husband says she snores. "But he does, too," she adds.
How can people improve their sleep?
"No clocks near the bed, no radio or TV, no computer, just no distractions," Cobbinah says. "And keep the food downstairs."
Copyright 2018 The Lawrence Journal-World. All rights reserved. This material may not be published, broadcast, rewritten or redistributed. We strive to uphold our values for every story published.