Kirsten Krug already has checked her e-mail, making sure she's lined up today's 8:15 a.m. department meeting, a 10 a.m. WebEx meeting, a companywide lunchroom buffet from Plum Tree and an afternoon confab to review employee recruiting efforts.
With laundry past the rinse cycle and trash resting by the curb, the real work finally begins: fixing breakfast.
At a small Formica-topped table in the kitchen, Krug serves a feast of cinnamon toaster strudel; waffles with crunchy peanut butter and blueberry and strawberry syrup; and orange juice for her daughters Ainsley, 5, and Payton, 3.
"It has to be 5 Alive," Sunny D or anything of that ilk, Krug says. "It's not a real orange juice, of course, but a mixture of juices loaded with sugar."
It's just before 7 a.m. on Sagamore Court, where Krug and her husband, Robin, get their kids ready for preschool before it's time to shift into their other jobs: He runs the Baskin Robbins franchise in town, while she manages human resources for Amarr Garage Doors.
"Everything is the same, every single day," Robin says with an early-morning smile borne of satisfaction, not rote boredom.
Heading out on her way to work - "Good-bye girls," mom calls back, as always, after hugs. "Love you!" - Krug is ready for the familiar 19-minute drive to the East Hills Business Park, where she's worked for the past 11 years.
But this morning there's a twist: dense patches of early-morning fog crimp visibility for her and - more importantly - other drivers, steering her into a course correction. The normal 23rd Street commute is out, in favor of a less-perilous back route down "old 15th," or North 1500 Road.
"I just don't trust it with the fog," she says. "Too dangerous."
Yes, even a few miles away from the park, Krug is already hard at work - and not just because she's checking e-mails along the way.
As director for Amarr's Human Resources and Training Department, she long has advocated for adding traffic signals at the intersection of Kansas Highway 10 and Noria Road, the business park's main entrance. She's communicated with the Lawrence Chamber of Commerce, City Hall and the Kansas Department of Transportation to improve safety for her 650 Amarr co-workers and the hundreds of others who travel to the park each day.
Her efforts don't have a brake pedal.
Now, having safely arrived in the Amarr lot - having timed the shift change, she gets a space just outside the front door - Krug is ready to put her people skills to work.
She greets employees from the production floor to the engineering office, lunchroom, call center and all pathways in between with a smile and a personal hello. There's Diana in the office, Chris in inventory control and anyone else who happens to be in her always-deliberate path.
It's a personality trait that pays off at Amarr, where she's charged with leading personnel and training programs in a 460,000-square-foot production center that makes and delivers residential garage doors for delivery across the country.
It is here that employees are learning about a new corporate program that would sound unpopular for any workplace: next month, employees no longer will be getting paychecks.
They'll be getting pay cards instead, part of an outsourcing program designed to save the company money, improve management efficiency and - she tells managers across the country during a "WebEx" conference call and Internet presentation - offer convenient services for employees throughout the Amarr work force.
"It's a new and unique way for our team members to learn how to manage their money," she says, into her speaker phone.
Later, she points out another program benefit: With pay cards, employees who get fired won't have to return to the plant to collect a paycheck; final wage disbursements instead go directly into the account, keeping the break clean and final.
"There's no management involvement in payroll," she tells the WebEx participants.
She smiles, knowing that her department also can look forward to another benefit: No more Thursday afternoons spent sorting envelopes, bundling checks and dispensing paychecks.
¢¢¢
At 6:30 a.m., Harold Nelson wakes up, looks out the window of his home on Summerfield Way in west Lawrence, and bursts into an oldies song.
"'It's a beautiful morning/Think I'll go outside for a while,'" Nelson sings to himself. "I just know it's going to be a beautiful day."
Nelson, 62, gets up at the same time each day to shower and prepare for his day at Quail Run School, where he is the guidance counselor. Nelson is a man of routine- including the ritual of leaving his shoes in the garage as a way to thank God for his spacious home - but his work days can be unpredictable.
He gets in his yellow Cadillac and makes the five-minute drive to Quail Run, narrowly avoiding being hit by another driver who's talking on a cell phone.
"I could either walk or drive to work. Just in case I have to take any kids home, I drive," he says. "You never know as a counselor what you're going to have in your day, so you have to be prepared."
One thing is certain: he knows he'll spread goodwill by giving dozens of high-fives and hugs to children and co-workers, and by teaching students to repeat the phrase he's made famous at Quail Run: "There's nobody like me in the whole wide world."
"I think I come through the door saying it," he said.
¢¢¢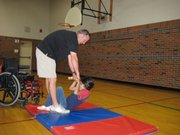 At 7:10 a.m., Brad Stoll's wife, Emili, leaves for work at Sunset Hill School where she teaches second grade. Fifteen minutes later, Stoll is packing his boys, Jack, 4, and Sammy, 1, into his Ford Explorer to take them to their sitter's house.
The boys are cooperating as they settle into their car seats in the Explorer that's packed with baseball equipment, uniforms and boxes of fresh baseballs.
After a coffee and two bowls of Raisin Bran, Stoll, the Lawrence High head baseball coach, is thinking about tonight's game against Free State High at Hoglund Ballpark. His team won last night. But the Firebird squad, which won the state championship last year, has the superior record.
Stoll teaches adaptive physical education and works one-on-one with more than 40 physically challenged students throughout the Lawrence district. This morning he will be at Lawrence High and Kennedy and Quail Run elementary schools.
His first student is Taimee Tapedo, a Kennedy fifth-grader who is in a wheelchair. Taimee and her classmates are being tested for how many sit-ups they can do in two minutes. Stoll and the girl each grasp a croquet stick that Taimee will use to pull herself up. Stoll encourages her to push herself.
"I did 18," Taimee says with a big smile to another girl. Next, Stoll helps Taimee and her class take part in tug of war. Her team wins all three matches.
Later. Stoll hops into this Explorer for his next class. The sun is bright and there are few clouds in the sky. He checks the weather forecast, which still calls for rain in the afternoon, which could threaten tonight's game.
¢¢¢
Lawrence police officer Michael McLaren has one hour remaining on his shift.
Not long before, he returned from Douglas County Jail where he took a man he arrested earlier in the night for camping illegally.
At this time of the morning, McLaren's finding a few moments for his lunch.
Meal breaks come at slightly different times on most days; the police department can't have all its officers taking lunch breaks at the same time.
The remainder of the shift is spent doing police work that's unseen by the public, which typically means writing reports for his supervisor.
Given the slow night he had on Thursday morning, there aren't too many new reports to write. That allows him to catch up on some old reports and narratives from days before.
At 7 a.m., he's done with everything and ready to go home to bed.
Copyright 2018 The Lawrence Journal-World. All rights reserved. This material may not be published, broadcast, rewritten or redistributed. We strive to uphold our values for every story published.