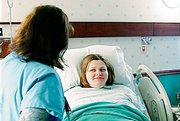 You might say Colleen Walker's job is one big party.
"Every day is a birthday party around here," Walker says as she roams the halls on the third floor of Lawrence Memorial Hospital.
The labor and delivery nurse at LMH's Maternal Child Care Unit helps bring new lives into this world.
"It's always a miracle every day," Walker says. "It is completely an awe. It is just such an honor to see somebody come in to the world."
Walker's busy and highly unpredictable day began at 6:45 a.m. when the nurses attend a morning report on all the laboring moms in the unit.
"This morning the nursery is just extremely busy. We have a couple of sick babies in there," she says. "And labor seems to be kind of even-keeled today."
Walker is assigned a patient - Sarah Rossillon, a third-time mother-to-be, who was admitted the previous night for an induction.
She hooks her patient up to a fetal heart monitor. An unmistakable sound echoes throughout the hospital room.
"135 beats per minute," Walker says, checking a strip of paper spewing from the machine. "That's Sarah's baby girl. Isn't it wonderful?"
It's not even 8:30 a.m. and Rossillon has already checked the clock three times.
"I'm anxious and ready to do this," Rossillon says from her hospital bed. "I'm optimistic. I want the baby today."
Six days later, Rossillon still hadn't had her baby.
Copyright 2018 The Lawrence Journal-World. All rights reserved. This material may not be published, broadcast, rewritten or redistributed. We strive to uphold our values for every story published.