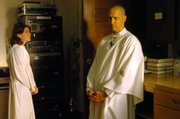 It's precisely 7:30 a.m., and the Rev. John Schmeidler walks into the front of St. John the Evangelist Catholic Church to start the daily Mass.
"Good morning," he says to the 38 in attendance on this Thursday. "We'll sing number 520. Five two zero."
With that, the Mass begins, a nonstop worship that includes singing, prayer, an offering of peace, a sermon and Holy Communion - the partaking of bread and wine to symbolize the body and blood of Jesus Christ.
The few dozen is a typical crowd for a weekday Mass. On Sundays, the church fills up for worship. On a holiday, people overflow out all sides of the church.
Though it's definitely the most visual aspect of his day, Mass isn't the only duty for the 42-year-old Schmeidler, who has been at St. John's for three years after spending three years at St. Lawrence Catholic Center near Kansas University's campus.
After conducting Mass, the Hays native partakes in individual prayer. He also looks over the St. John's School next door, communicates throughout the day with parishioners and, as head of the parish, oversees a staff that he says "makes me look good."
Though his life is devoted to a higher calling, Schmeidler still displays a down-to-earth personality. Outside his office on a narrow roadway is a sign that reads "Thou Shalt Not Park Here." In his scarce spare time, Schmeidler enjoys playing basketball on Tuesdays and Thursdays - his way of winding down.
But in the mornings, his devotion to the Catholic Church consumes him. Some 20 minutes after the service begins, Schmeidler finishes it by wishing the church's loyal followers well.
"Go," he says, "in the peace of Christ."
Copyright 2018 The Lawrence Journal-World. All rights reserved. This material may not be published, broadcast, rewritten or redistributed. We strive to uphold our values for every story published.