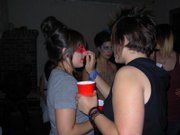 The KJHK Fashion Show will begin in 5 hours, but for the 'models' of MissFortune's Creation Station, it's already time to meet the stylists for hair and makeup.
We walk the half-block to Liberty Hall, our arms laden with bags holding tonight's ensembles and stage props. We stop for a second in the Liberty Hall box office, a jangle of nerves, one of us asking, "Where do we go?" (We don't have to identify ourselves, we're 'models'.) We are directed to go into the theater, through the right backstage entrance and downstairs into the catacombs. What a cool place to be. It would be nice to sit in the first room, it's like your friend's living room circa early '70s, and just listen to the walls talk. We keep walking into a wide hallway, with a small wet bar and a piano, and a picnic table at the end. There are two doors on either side of this hallway and either door will lead us to the makeup room, complete with benches and super long horizontal mirrors that span two walls.
We've been walking in a line, one after another, and one of the doorways to the makeup room is where we stop, holding bags, while Lou Glue, the director of our show, peeks her head in. She turns back around to a chorus of questions: "Should we go in?" "Are our stylists in there?" Emeel, one of our models, peeks into the room. "It looks like it goes pretty far back." Lou Glue looks past us and gives us the first priority. "Let's put our stuff here." And we heap our bags onto the picnic table, claiming our spot for the rest of the evening.
The stylists arrive soon after, and we talk hair. Really big hair. Basically, "Go Big or Go Home" kind of hair, and the same goes for the theatrics we have choreographed to our three 5-minute runs, all performed to music we've picked out ourselves. Our story lines include nothing less than walking our dogs (they're humans acting as dogs) in a dog park, a bunch of females hitting on a gay boy, and last but not least, a battleground of the future, where we have armed ourselves with spears, knives, swords, chains, a belt, numchucks, and other weaponry. Hey, it's a Lawrence fashion show.
Over the next four hours, the volume in the catacombs will get louder with the growing number of models and stylists and the constant movement of people through the hallway. We'll practice our moves, we'll joke about how we've sustained ourselves on cotton balls soaked in vanilla, we'll seriously discuss how to not really perform our antics during the dress rehearsal because we don't want models from the other stores to steal our amazing material, and we'll drink beer and grow more anxious to just start the show. Our aim is true. With our showmanship onstage, we hope to give the audience the feeling, just for a moment, that it's a MissFortune's models' world, you all just live in it.
Copyright 2018 The Lawrence Journal-World. All rights reserved. This material may not be published, broadcast, rewritten or redistributed. We strive to uphold our values for every story published.