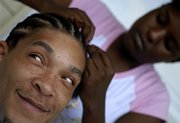 24 Hours: Harold Nelson
Guidance counselor Harold Nelson spends his days trying to help young people feel better about themselves.
His office at Quail Run School is decorated with inspirational sayings such as, "Happiness is not a reward. It is a consequence," and a poster of the cartoon cat Garfield that says, "Be Yourself! You're too special to be anyone else."
By noon on this day, the 62-year-old Kansas City, Kan., native already has given the morning announcements, met with a team including principal Paulette Strong, taught sixth-graders about using combination locks, and met with a group of first-graders to help build their social skills.
He's now concerned about a fourth-grade student who broke down and started crying in the boys restroom during the morning. Nelson was called to the classroom to take the boy for a walk around the school, and he'll visit the class again to check on him before the day ends.
Normally at noon, Nelson is eating lunch with students, where he says he gets his best information about what's happening in their lives. But on this day, he's scheduled to give a presentation to Deb Pentecost's fifth-grade class about interpreting media messages related to drugs and alcohol.
Walking down the halls from his office to Pentecost's class, he stops to high-five nearly everyone he passes.
"Alex, how you feeling? You all right?" he asks one student. High-five.
"How you doing? All right, give it up!" he says to another student. High-five.
After his presentation to Pentecost's class, Nelson is back in his office, having a leftover fish sandwich, steamed vegetables, and a snack cake packed by his wife, Vivian. He knows that when he gets home, he'll have to mow the lawn and clip the hedges - in part because he has company coming to town, but also because keeping a neat lawn is a matter of neighborhood pride. He'll also have to deal with a tenant who refuses to move out of a four-unit apartment building he owns on West 25th Street.
He hopes to have time to ride his bicycle to Free State High School to watch the sons of his co-worker Millie Emerson play baseball, then head to a retirement party for Quail Run principal Strong and fourth-grade teacher Linda Williams.
As the school day ends, Nelson directs traffic in front of the school. He high-fives almost everyone who passes and shouts "Crosswalk!" to a parent who tries to walk across the school's drive improperly.
After the traffic dies down, he makes the short drive to his home and stops in his garage to take off his shoes.
"It's a way of reminding ourselves that God has blessed us. That's what that's all about," he says.
He changes out of his shirt and tie into what he calls his "work work" clothes - grass-stained sweatpants and a Jayhawk sweatshirt -and starts his lawnmower. Soon, his wife, home from her job as manager of Vermont Towers, has joined him in the yard.
"With the neighbors, if anybody hears a lawnmower start up, everybody comes running out," Vivian Nelson said. "The ones that have mowed, they're breathing a sigh of relief. Those that haven't, we've got to come out here and get on the bandwagon."
¢¢¢
No rain today, despite a 40 percent chance of thunderstorms this afternoon. The skies are clear and the weather is getting sticky.
It's good day for baseball.
Brad Stoll, Lawrence High's head baseball coach, is preparing his team for a game against Free State at Hoglund Ballpark. The Firebirds have the better record and the game will have no effect on the standings. But there's always bragging rights.
Before heading to the ballpark, Stoll stops at Lawrence Memorial Hospital, where he is told one of his students is suffering from a stomach ailment. He learns that the boy was sent home. That's a good thing, Stoll notes.
It's 5:30 p.m. and Lawrence High is taking batting practice down the left field line. The Lions, who beat the Firebirds the night before, are loose. They talk about dancing, prom and cars. Their language is R-rated, but in good nature. They steal glances at the Firebird players, who are now practicing on the field.
lll
Thankfully, Lawrence police officer Michael McLaren gets to enjoy a full night's - or rather, a full day's - sleep.
Having gone to bed around 9 a.m., a couple hours after leaving work, he wakes around 5 p.m. On days he has to testify in court, his sleep is interrupted.
On just about any given day, the halls of the Douglas County District Court are spotted with police and sheriff's officers waiting to testify about what they saw and where.
McLaren, who works the graveyard shift and patrols downtown Lawrence, is often among them.
Sometimes he testifies everyday during a week, other times he doesn't testify at all.
Today he gets to sleep. When he wakes, he spends time with his children and his wife and starts to get food ready for dinner.
"Nothing too exciting," he says of tonight's menu. "No super-man stuff."
¢¢¢
Kirsten Krug's anticipated lunchtime trip to the Lawrence Athletic Club - "It takes about 60 seconds to get there," she says, and she's serious - gets derailed because of a work conflict.
So instead it's leftover spaghetti and meatballs for lunch, following up on the Anderson Erickson blueberry yogurt and can of Starbucks Double Shot that regularly passes for a breakfast - all consumed at her desk, behind the laptop that always seems to be signaling the arrival of yet another e-mail message or conference call or other pressing matter that only the director of people and training at Amarr Garage Doors can tend to.
"I have a pretty structured life," she says. "There's not much give. But that's the way it is when you've got kids."
Oh, yes, the kids.
The work day ends - at Amarr's production plant in eastern Lawrence, anyway - at 5 p.m. sharp. That's because it's her responsibility to shoot across town to Raintree Montessori School by 5:30 p.m. to pick up her preschoolers Ainsley, 5, and Payton, 3.
"I'm usually there by 5:22," she says.
On Thursdays it's off to a restaurant of the girls' choice - tonight it's McDonald's, as usual - to give Krug and her husband, Robin, the one break from cooking they get each week.
"There's not much down time," Robin says.
Copyright 2018 The Lawrence Journal-World. All rights reserved. This material may not be published, broadcast, rewritten or redistributed. We strive to uphold our values for every story published.