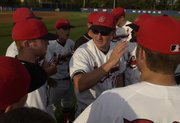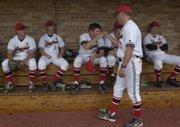 Brad Stoll doesn't let a day go by without listening to Willie Nelson.
Nelson's music gets him pumped up for his day, and his day is one of extremes.
In the morning, Stoll is putting little socks and shoes on his boys, Jack, 4, and Sammy, 1, getting them off to day care. Three cups of black coffee later, he's on his way to his day job as an adaptive physical education teacher, motivating youngsters with special challenges. By late afternoon, he's coaching some of the city's best young athletes on the baseball diamond.
When he gets home tonight, after his Lawrence High School Lions take on the Free State High School Firebirds, Stoll will be exhausted, but humming a Willie Nelson tune as he catches "Baseball Tonight" on ESPN.
Willie Nelson reminds Stoll of his father, Dan. The Stoll men have been to several Nelson concerts together and "Whiskey River" is their favorite song. Stoll learned his values from his dad.
"Coach Stoll has said since the beginning of the year that his first job is to make us better men," said pitcher Daniel Green, who beat the defending state champion Firebirds the night before. "He's a great role model. When we go out of town, like we did for a couple of days to Oklahoma this year, he demands that we present ourselves in a good manner."
It's 7 p.m., game time. The air is thick and muggy.
Stoll jokes with a few students sitting behind the LHS dugout on the first base side. The teens are shirtless and have painted faces.
More than 300 fans sit in clusters throughout the Hoglund Ballpark stands, but school colors can clearly be seen, and LHS red is not mixing with Free State green. This game is a grudge match.
It's an LHS home game. But when the Lions come to the plate, the first batter is wearing a batting helmet borrowed from the Free State dugout. Stoll and his coaching staff forgot the team's helmets and someone is rushing back to the school to pick them up.
Stoll, 34, is at home on the diamond, but it's also where he experienced one of his biggest disappointments. Seventeen years later he still laments being cut from Lawrence High's varsity baseball team his senior year. He uses the story to encourage his players.
"I never had a chance to compete at the varsity level. I was just a bad player," Stoll says. "So my message to my seniors is don't try to rush through your senior year. This is a fast game so we try to teach them to slow it down. Before you know it, it will be over. One of our mottos is to play with risk for 5 to 7 seconds and then remove yourself. Then get ready to get back into it and do it again for another 5 to 7 seconds."
Stoll prowls the third-base coach's box when the Lions are batting. The game is close until the fourth inning, when Free State rallies. The Lions don't answer, their bats stifled by Cody Lown's slow curves. Stoll is clearly frustrated, but still preaches the positive. "Wait for your pitch," he counsels a batter.
"It's tough to push him," says assistant coach Adam Green, Stoll's best friend who worked with Stoll at Free State for four years before moving to LHS in 2004 when Stoll became head coach. "He's a positive guy. That's one of his strengths for sure. We like to have fun and the game of baseball has to be played that way, but were also talking about 17- and 18-year-old kids and they sometimes don't know when to draw the line."
Each week, Stoll has four of his players swim with some of his adaptive PE students.
"They see kids with Down syndrome, autism, cerebral palsy or multiple sclerosis and get to see the hand that those kids were dealt," he said. "My whole thing is, an 0-4 at the plate is not nearly as bad as not being able to walk or take care of yourself like some of the kids I work with. From 8 to 3, I work with kids and it's a struggle for them, but I get to help them have success. Then I get to work with some of the finer athletes in town and teach them about life and the game. It's an awesome balance."
The Firebirds beat the Lions 8-2. As the stands empty, Stoll gets well wishes from the few people milling around the field. Emili, Stoll's wife, is holding their son Sammy as Jack runs around the bases with some other children. He slides into home plate.
Emili will be heading home soon with the boys. She won't see Stoll for another couple of hours.
"He's a wonderful husband and an amazing dad," Emili said. "I consider myself lucky when he comes home tonight and unloads the dishwasher and folds a couple loads of laundry. I don't think every woman has that luxury. I don't think people believe me when I tell them that, but he does. I'm pretty lucky to have Brad Stoll."
The ballpark is empty. Stoll heads to Old Chicago for dinner with coach Green and Ritchie Price, KU's head baseball coach. They talk for more than an hour about hitting.
Stoll arrives home about midnight. Emili and the boys are sleeping. He sits down to unwind for an hour of TV - "Baseball Tonight" and the Weather Channel, of course.
Willie Nelson sings a gospel song where "they tell me of an uncloudy day." Maybe it's really a baseball coach's prayer.
¢¢¢
Harold Nelson's evening isn't going as he'd hoped.
By 6 p.m. - after a full day of counseling children at Quail Run School and tending to the lawn at his home in west Lawrence - Nelson had hoped to ride his bicycle to Free State High School to watch a friend's sons play in a baseball double-header. After that, his plan was to go back to the school for a retirement party for Quail Run principal Paulette Strong and fourth-grade teacher Linda Williams.
But as the evening goes on, a problem with a tenant in his rental property on West 25th Street grows more urgent. She was supposed to be out no later than Thursday, but by day's end it's clear she isn't leaving.
"All the things that I have planned to do have now been placed on hold," Nelson says. "That will be the rest of my evening, and it's not going to be pleasant."
He drives to the complex, where he finds the apartment filthy and, for the moment, unoccupied. He spends an hour waiting for the woman to return so that he can talk with her, but eventually gives up.
He drives home and decides to walk with his wife to Dillons to get some chicken from the deli and walk off his anger.
"I'm feeling very dubious about whether we should have bought that complex," he says.
The exercise calms him somewhat. When he gets home, he sets the timer on his TV, reclines in his chair, and dozes off to sleep watching the NBA playoffs.
¢¢¢
When Ainsley and Payton Krug close out their work day - preschool at Raintree Montessori - they don't have much time to play.
But they make the most of it.
Tonight, on the driveway on Sagamore Court, they're giving their bicycles a workout. Ainsley wants her training wheels removed, and is doing all she can to convince mom and dad that she's worthy.
"She's getting it," says mom, Kirsten Krug.
Payton wants to keep up with her big sister, and counts on mom to give her the nudge to make it happen.
"Give me a boost!" she implores, having stalled her orange bike on the way back up the driveway.
Mom is happy to oblige, and her steadfast push ends in success - but a harmless crash into big sister.
The whole playtime lasts 17 minutes. There's no time to waste, as the girls need to take their showers, eat and get ready for bed. Eight o'clock is "feet off the floor" time, when the girls know they must be in bed, whether it's to read a book, play a game or start dreaming.
By 8:30 p.m., Krug finally can check the mail. There's a summons from Douglas County District Court - jury duty.
"Ah ha!" she says, still smiling at a time others might cringe. "My opportunity to serve my community - my civic duty."
But enough of that. It's time for bed, and the anticipation of getting up before 5:30 a.m. in time to turn off the alarm before it goes off, check the e-mails and begin yet another day that starts - and ends - just about like all the other ones.
¢¢¢
Lawrence police officer Michael McLaren will spend tonight the way many families in Lawrence do.
He'll eat dinner and "watch a little bit of TV, get the kids ready for bed, get ready to come back into work," McLaren says. He also fixes an old mail box that is rotting.
The only difference, though, is McLaren's day is it is just getting started. Work starts at 10:15 p.m. - twenty-two-fifteen-hours, to use police terminology.
Evening shifts start with a briefing from a police sergeant.
"We cover any kind of items, any stolen vehicles, any suspects we might be looking for," he says.
His last shift was uneventful. Today, however, is stop day at KU, which means students don't go to class. He expects plenty of partying and potential for trouble.
Within half an hour of starting his shift, he's already responded to his first noise complaint.
Copyright 2018 The Lawrence Journal-World. All rights reserved. This material may not be published, broadcast, rewritten or redistributed. We strive to uphold our values for every story published.