Photo Gallery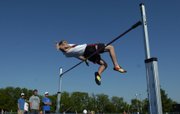 Class 6A regional track meet
Olathe — During the last race of the day, Free State High senior Keron Toussaint ran the 4x400-meter relay without a shoe and with an aching hamstring, but still posted a blazing 49-second time.
"A lot of people would've just stepped off and not even tried to compete," Free State coach Steve Heffernan said. "To run barefoot that fast is impressive."
After Friday's Class 6A regional, trainers worked on Touissant's hamstring, which he aggravated on the backstrech of the relay. Heffernan said his status for the state meet remained in doubt.
That gutsy performance, however, may not have served as Toussaint's best.
He ran the 400 in a blistering 48.18 to place first, set a personal best and break a school record.
Along with Toussaint, several athletes impressed Friday at the Olathe District Athletic Complex meet, which was hosted by Olathe North. Among eight teams, Free State finished second in boys and fifth in girls; Lawrence High finished fourth in boys and second in girls. More importantly, competitors needed to place in the top four of an event to qualify for state, and many city athletes did so.
"We had a lot of kids step up today," LHS coach Jack Hood said. "They competed their guts out and showed up when they're supposed to."
Two springy-legged LHS seniors placed first. Abby Jones matched her personal high on the pole vault of 11 feet for the second consecutive week. Kevin Logan qualified for state on the high jump during his very first attempt.
He jumped a 6-foot-6, to receive a first place medal, missing out on tying his personal best by two inches. At 6-9 his heel grazed the bar, knocking it on the mat. The senior who calmly ate nachos after qualifying, compensated for a poor performance at last week's Sunflower League meet and reached for state for the second consecutive year.
"I felt real good. Last week I was just dead," Logan said. "I'm just glad I made (state). I didn't want to be one of those one-hit wonders and just go one year and not the next."
Friday provided greater redemption for another Lion. Senior Paul Finch tore his anterior cruciate ligament during the second game of the 2005 football season. Following reconstructive surgery, Finch returned for track season but lacked throwing strength.
During his last shotput throw of the day, he topped his previous best by more than three feet to earn a fourth-place finish and his first berth in state.
"I don't even know what to say but, 'wow,'" he said. "Everything was going right."
Free State pole vaulter Todd Lee also advanced to state for the first time. He placed first while clearing 13-6, which tied his personal record.
"It's probably one of the best feelings I've had," Lee said. "I'm elated. I thought at the beginning of the season I could get there. I didn't think I could get there with such good numbers."
It also serves as a testament to the Firebirds coaching staff. Lee, a senior who will follow in his father's footsteps and attend the Air Force Academy next year, began vaulting last year and he never vaulted higher than 101â2 feet.
The future F-22 pilot will serve as one of many city athletes to make the trek to Wichita for next weekend's state meet.
"I hope I've got enough hotel rooms," Hood said.
Copyright 2018 The Lawrence Journal-World. All rights reserved. This material may not be published, broadcast, rewritten or redistributed. We strive to uphold our values for every story published.