Photo Gallery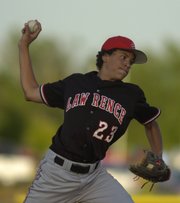 Lawrence High vs. Free State baseball
The first time Tony Williams stepped to the plate with the bases loaded Thursday night, the Lawrence High senior popped out to third base.
Five innings later, Free State intentionally walked John Novotny to create a bases loaded situation for Williams - again.
"Of course I felt disrespected," Williams said. "They evidently thought I couldn't hit and I made them pay."
The LHS senior lefty crushed the Ryan Scott offering to the gap in right-center field. Bases-clearing double. Game over.
Lawrence High defeated Free State, 8-1, in the Class 6A regional championship game on the Firebirds' home field. The Lions won two of three games against the Firebirds this season - both occurred at Free State. The victory marked the first Lawrence High state baseball appearance since 2002, when it finished third.
Williams stood on second base after the double and pointed to the Lawrence High bench, which nearly cleared the dugout in excitement.
"Tony hammered it," LHS coach Brad Stoll said. "I'll tell you what, this is an indication of how hard and far he hit that ball: Johnny Novotny scored from first and Johnny can't run out of sight in a week."
Eight days ago, Daniel Green allowed only two hits in the first LHS baseball victory against Free State in five years. Thursday, sophomore Dorian Green - no relation - limited the Firebirds to three hits, one earned run, four walks and struck out eight.
Dorian Green effectively mixed his fastball with his breaking ball. He also escaped pressure-packed situations. Free State loaded the bases twice, but didn't score a run in either instance.
"I was concentrating on getting that first strike and then everything else came through," Green said. "When I got on the mound and started throwing for strikes consistently, that's when I knew I had it."
Although the sophomore right-hander walked four, he retired 13 of the last 14 batters. Green retired the side in the fourth and fifth innings.
"Big stages don't affect him," Stoll said. "You saw it in basketball and we're seeing it in baseball. That breaking ball was even sharper in the sixth inning."
LHS offered Green a generous amount of run support as well. The Lions took a 4-1 lead from a wild pitch, a sacrifice fly and a groundout RBI. Williams' double made it 7-1, then Clint Pinnick knocked in Williams with an RBI single.
Novotny created run support all day with his 5-for-5 performance with three doubles in two games. The senior third baseman went 3-for-3 with a double, two singles and a walk against Free State. He had three runs total.
Lawrence High defeated Washburn Rural, 17-7, in five innings in its first game of the day. Free State defeated Leavenworth, 11-1, in six innings, which created the LHS-FSHS regional championship matchup.
"I'm not disappointed in the least," Free State coach Mike Hill said. "We had one guy coming back who played at the position he was at a year ago (senior catcher Andy Petz). If you were to tell me we would finish 16-5, I wouldn't have believed you."
Free State will lose three starters, but return all of its pitching from this season. The Firebirds will return six offensive starters.
Senior first baseman Ben Wilson did not play for Free State in either game. Hill refused to provide any details about Wilson's absence.
"I have no comment about the kids who didn't play tonight," Hill said. "I'm only talking about the ones who played on the field."
LHS first baseman Nick DeBiasse was ejected in the top of the fourth inning for running into the first baseman in an attempt to beat out a throw. DeBiasse's status is questionable for the state tournament.
Next weekend will mark the first time Stoll, in his third year, coaches the Lions at the state tournament. LHS (13-8) lost in the first round of regionals in Stoll's first year, then lost in the regional championship game last season.
"Our goal all year was to have a dogpile in Wichita and now we're three games closer to doing that," Dorian Green said.
Copyright 2018 The Lawrence Journal-World. All rights reserved. This material may not be published, broadcast, rewritten or redistributed. We strive to uphold our values for every story published.