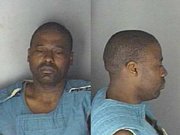 Law enforcement officers are searching in Tonganoxie this morning for an attempted murder suspect from Topeka.
Officers also are searching an abandoned red Buick Skylark near a Sonic Drive-In on U.S. Highway 24-40 in this southern Leavenworth County community.
Early this morning, a Tonganoxie police officer who was on routine patrol saw a car he thought was suspicious. The officer determined the car was stolen in Topeka.
A Topeka police officer, who is in Tonganoxie, said the attempted murder and rape occurred in North Topeka. The victim is a Topeka woman in her 40s. She is in a Topeka hospital, listed in serious condition.
Officers said they believe the Buick found in Tonganoxie belonged to the victim.
Officers said they interviewed a Tonganoxie resident who told them that he saw a man matching the suspect's description walking near the Sonic about 11 p.m. Thursday. A neighbor said he saw the car parked Wednesday in the neighborhood.
This morning, police also searched the Tonganoxie High School campus before allowing students inside.
Officers are using the Jefferson County K-9 unit in their attempt to find the suspect.
Officials identified the suspect as Errol Mustafa Sutton, a black male, 40, 5-foot-6-inches tall and 170 pounds. Police said residents should not try to approach Sutton, but contact 911 if they see him.
Telephone glitch
A Tonganoxie school district telephone system designed to keep parents informed about emergencies malfunctioned Friday morning.
The system had been put into operation to notify parents of a lockdown at Tonganoxie High School while law enforcement officials searched for a suspect in an attempted murder and rape that occurred Wednesday in Topeka. The victim's stolen car was found early Friday morning near the Sonic Drive-In across the street from Tonganoxie High School.
But instead of a message about the lockdown, the telephone system was playing rap music.
Copyright 2018 The Lawrence Journal-World. All rights reserved. This material may not be published, broadcast, rewritten or redistributed. We strive to uphold our values for every story published.