Photo Gallery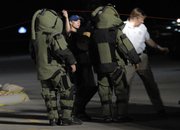 Bomb scare
A worker leaving the East Hills Business Park on Wednesday found what appeared to be a pipe bomb under his vehicle, triggering a scare that ended when a bomb squad destroyed the device hours later.
"It appears to be an explosive device. It appears to be a device that could have caused harm if it went off. Luckily, it didn't," Lawrence Police Sgt. Mark Warren said about 10:20 p.m., after a bomb squad from Overland Park came to the scene and blew the device apart with a remote-controlled cannon. "Obviously, somebody put it there, but how and when I don't know."
Lawrence Police Capt. Dan Affalter said an employee of Pearson Government Solutions reported that he was leaving work about 5:35 p.m. when he saw the device hanging from under his vehicle. The employee pulled it loose before realizing what it was, Affalter said.
From a distance, the pipe appeared to be about a foot long with material attached to the outside.
The device lay in the parking lot about 100 yards from the Pearson building throughout the evening as police restricted traffic in the area. At least one nearby building was evacuated.
Ashley Hornberger, who identified herself as an employee of Vangent Inc., contacted the Journal-World on Wednesday night to express concern that some employees in the area weren't told of the situation until about 6:15 p.m.
"Everybody should have been notified in a timely manner," she said.
Representatives of the FBI and Bureau of Alcohol, Tobacco, Firearms and Explosives came to the scene, along with Lawrence-Douglas County Fire & Medical. Between roughly 9 p.m. and 9:30 p.m., the bomb squad blasted the pipe twice using a remote-controlled device that shot a projectile similar to a shotgun shell. Police then moved in and began examining it.
Warren said it would be collected as evidence and that detectives would continue investigating how it got there.
Copyright 2018 The Lawrence Journal-World. All rights reserved. This material may not be published, broadcast, rewritten or redistributed. We strive to uphold our values for every story published.