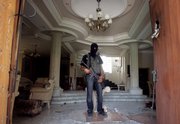 Gaza City, Gaza Strip — Gunfire and explosions raged across Gaza City on Wednesday, killing at least 21 people in the most widespread fighting of nearly a year of clashes between the rival Fatah and Hamas movements.
Street battles turned the densely populated seaside city into a war zone, putting terrified civilians increasingly at risk. Stray bullets damaged apartment buildings, gunmen fired at a group of protesters, and Hamas militants beat a female Fatah lawmaker and her two children before setting fire to their apartment.
Hamas also targeted Israel, firing barrages of homemade rockets for a second day, seriously wounding one person and knocking out power in the southern Israeli town of Sderot, officials said. Israel staged two airstrikes on Hamas targets, reportedly killing five people.
Hamas fighters appeared to be trying to draw Israel into the conflict in hopes of uniting Palestinians against a common foe. Israeli Prime Minister Ehud Olmert's Security Cabinet decided against large-scale reprisal, however, although it authorized the army to step up attacks on Hamas rocket squads.
"Israel cannot continue to restrain itself when its citizens are being hit and therefore decided on a severe and serious response," Olmert's office said.
The Palestinian infighting threatened to destroy the fragile unity government established in March by Hamas and Fatah and pushed the rivals ever closer to all-out civil war.
A main goal of the alliance was to halt months of factional violence, but the unity deal never addressed a key area of dispute - control over Palestinian security forces.
The latest round of violence erupted this week after President Mahmoud Abbas of Fatah deployed thousands of police officers to halt a crime wave in Gaza without first consulting with Hamas. Forty-five people have died, most of them Fatah men, and dozens have been wounded.
During the week, the attacks have grown increasingly brazen. Hamas gunmen fatally shot six bodyguards early Wednesday during an assassination attempt on a top Fatah security man. The commander, Rashid Abu Shbak, wasn't home during the assault and his family escaped harm.
Hamas militiamen also set fire to an 11-story apartment building inhabited by several Fatah officials. Fatah lawmaker Nema Sheik Ali, the wife of a top security commander, said the gunmen broke into her fifth-floor flat, beat her and two of her children with their weapons, and then set the home ablaze.
Ali's family managed to flee the building. But many residents were trapped inside, screaming out their windows for help.
Copyright 2018 The Associated Press. All rights reserved. This material may not be published, broadcast, rewritten or redistributed. We strive to uphold our values for every story published.