Photo Gallery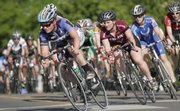 USA Collegiate Cycling Championships
Although the USA Cycling Collegiate Road National Championships Div. I men's criterium race winner is a Colorado State graduate student, Phil Mann was right at home Sunday on the streets of downtown Lawrence.
Mann, a 2002 graduate of Shawnee Mission East, had family and friends travel from Kansas City to watch his championship ride.
"It feels awesome to win it in front of them," Mann said. "It always gives me a little added motivation when I hear my brother and my whole family yelling on the sideline."
After placing second in the D-II criterium while racing for DePauw University in Greencastle, Ind., last year, Mann said he was happy to give his mom a more impressive Mother's Day present this year.
"The joke is that I always forget to buy my mom a Mother's Day gift, so I had to do something good here, especially on Sunday," Mann said. "Last year I took second, and she was happy with that, so I knew she wasn't going to be happy with a second place this year. So I made sure I won for her.
"We just knew if it happened it would be a great excuse to forget a Mother's Day gift. But I'm going to milk this for as long as I can. I'll give them (parents) the medal and put it up on the mantle. That'll be their gift for a while."
Mark Smelser of Kansas State, who won the criterium last year, was also in the breakaway pack and placed 10th in the crit.
While he wasn't successful in his attempt to defend the title, Smelser said the top-10 finish was affirmation of his national-championship victory a year ago.
"It is kind of a confirmation that I was up there in the lead group so it makes me feel a little bit better about last year's win," said Smelser, a McLouth native. "Obviously, I feel like I am at that level where it wasn't just a freak accident last year. : In the shadow of last year, it's not what I was hoping for, but still it's a really good day."
Mann and Smelser were part of the breakaway that was able to open up a large margin over the rest of the field, with the peloton finishing nearly a minute behind.
"Today, we had a group of really strong guys, and it was anybody's finish," Smelser said. "I was amazed that we didn't get caught. We were all just completely committed to that breakaway, and you get that many guys that want to stay out in the front. In the field it can kind of be chaotic because people don't want to work too hard."
Kansas University's Jeff Schroeder was able to avoid a late-race crash to finish 59th at 1:12:01.0. However, teammates Jason Knight (1:13:07.4) and Christian Beer (1:13:07.5) were not as fortunate and came in 84th and 85th.
"I was far enough back that I was just able to slam on the brakes and zip around and catch back on with that lead group and hang on for dear life," Schroeder said.
The only Kansas woman to cross the finish line was Kristen High, whose time of 59:49.8 was good enough for 42nd place in the field of 59.
Colorado College's Jared Faciszewski won the D-II men's crit with a time of 1:11:14.7, while Jennifer Bodine of George Washington University narrowly won the Div. II women's race with her time of 1:03:29.7 - just 0.2 of second ahead of Whitman College's Kendi Thomas.
Thomas' teammate Mara Abbott came in another 0.2 seconds back for a third-place finish. The top-three finish in the criterium along with winning the road race Saturday earned Abbott her third consecutive omnium, or overall, title at Nationals.
University of Virginia's Mark Hardman and Florida's Rebecca Larson also were able to defended their omnium title in D-I.
Hardman topped University of California-Davis' Tyler Dibble by 25 points - more convincing than his two-point win over Smelser a year ago - while Larson, who won her second straight crit title, held on with a two-point margin of victory over Erica Allar of Penn State.
The D-II men's omnium was also decided by two points with Mesa State's Chris Stuart getting past Dartmouth College's Eric Schildge.
Stanford won the D-I team title by beating UC-Davis, which won the title a year ago, by 89 points, with Fort Lewis College rounding out the top three.
The Whitman team was unable to defend the Division II team omnium, coming in third, with Western Washington University claiming the title with a 30-point victory over Dartmouth College.
Copyright 2018 The Lawrence Journal-World. All rights reserved. This material may not be published, broadcast, rewritten or redistributed. We strive to uphold our values for every story published.