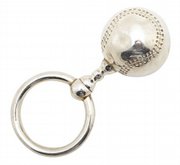 Current prices
Current prices are recorded from antiques shows, flea markets, sales and auctions throughout the United States. Prices vary in different locations because of local economic conditions.
¢ Menu, Grand Canyon Lodge, Utah Park, Union Pacific, 1929, 4-by-5 inches, $45
¢ Silver-plated cream ladle, Victoria pattern, William Rogers & Son, 1895, $55.
¢ "Working Wives (Salaried or Otherwise) Cookbook," Crown Publishers, 1963, $70.
¢ Carnival glass sandwich server, Brocaded Summer Gardens pattern, center handle, white, $75.
¢ "Mansion of Happiness" board game, Parker Brothers, c. 1894, 21-by-14 inches, $310.
¢ Slave cradle, canoe shape, suspended from bentwood frame, cast-iron wheels, Marietta Chair Co., Ohio, c. 1876, 49 1/2-by-26-by-24 inches, $405.
¢ Daguerreotype, mother with children, one girl, two boys, leather case, c. 1858, 1/4-plate, $575.
¢ Madame Alexander Shari Lewis doll, hard plastic, five-piece body, red dress, 1959, 14 inches, $600.
¢ Advertising sign, Baby First "Pevely" Best Milk, porcelain, baby holding up bottle of milk, 1930s, 17-by-21 inches, $2,625.
¢ Movie poster, "The Mummy's Curse," Lon Chaney Jr., linen back, 1944, 27-by-41 inches, $2,900.
What better gift for a new baby than a baby rattle? Babies have played with rattles since ancient times. At first the toys were meant for adults, who rattled them to keep evil spirits away from children. By the Middle Ages, the rattle, often attached to a handle made of coral to chew when teething, was a popular toy among aristocrats. In the United States, hollow clay figures shaped like birds or dogs were made with small balls inside that would rattle. These, too were often meant for adults to shake. Clay is too easily broken and unsafe for a baby. By the 1800s, the famous silversmith Paul Revere and others were making silver rattles that also could be chewed. In the early 20th century, Tiffany's, the famous New York company, made sterling-silver rattles as baby gifts. Silver baby gifts like feeding spoons and special dishes are still being made. Collectors like all types of baby-related items.
Q: Can you tell me who made my porcelain vase? It's 17 inches tall and decorated with hand-painted gold flowers. The mark is a red crown over a shield enclosing the initials RH. Another red mark reads: "Made in Austria."
A: Your vase was made between 1900 and World War I at the Robert Hanke Porcelain Factory of Ladowitz, Austria. Today the city is called Ledvice and is in the Czech Republic. Robert Henke's company was in business from 1882 to 1945. It made all kinds of decorative porcelain and giftware.
Q: I have a piece of furniture that looks like a footstool with a post in the center, making it about 5 feet tall. A metal tag on the bottom reads: "Cushman Colonial Creation." Can you tell me what it might be?
A: We were as baffled as you by your strange piece of furniture until we discovered the history of Cushman Colonial Creations. The very inventive members of the Cushman family opened a business in 1867 when Henry Theodore Cushman began making corks. He used the waste from the corks to stuff mattresses that he sold. By the 1870s, he had a factory and invented novelties to sell through a mail-order company. His inventions included the first ink eraser, the first pencil and ink eraser combination, the first children's pencil box and the first ink eradicator. He even made pocket-size roller skates he rolled into a tube. By 1886, he was making coat and hat hangers and racks, his first furniture. Next came umbrella racks, easels, bookracks, stools and fireplace screens. The H.T. Cushman Manufacturing Co. of Bennington, Vt., was founded in 1889. At first it made Mission furniture, then some more original inventions. One was the Betumal ("beat 'em all"), a telephone stand with a hinged stool that swung into the stand for storage. The 1920s saw more Cushman innovative furniture, including smoker's furniture like standing ashtrays. And this is what we think you own - the stand for an ashtray. The pole must have held a large ashtray and sections for pipes, matches and other accessories. The Colonial Creations line of furniture was introduced in 1933. Early pieces were designed by Herman DeVries, a famous Dutch designer. The inventive firm adapted ideas from blacksmiths' mailboxes or cobblers' benches for an Early American look. The scuffed maple finish made the furniture look old and the line remained popular for more than 30 years. The company was sold in 1964, then sold again and renamed. It went out of business in 1980
Q: I have a coffee grinder with the label "Aroma No. 9, Made in Cleveland, Ohio, by The Bronson-Walton Co." Can you tell me more?
A: The Bronson and Walton Co. operated in Cleveland from 1901 until 1916. The company made metal kitchen goods, including baking pans, roasters, pails and buckets, as well as coffee grinders. The Aroma No. 9 mill had a steel canister. The label was lithographed dark green on white or red on black. Bronson-Walton coffee grinders sell for more than $100.
Q: I am trying to find the age and value of a wristwatch with a face showing a cartoon figure of the former mayor of Chicago, Richard J. Daley. The caricature is wearing a blue suit and a crown. He's holding an American flag in one hand and a flag with two blue stripes and four stars in the other. The watch works and looks like new. It has its original cloth band.
A: Collectors call watches like yours political wristwatches. They were first made in the 1970s, and it's easy to find examples featuring Richard Nixon or Spiro Agnew. Your wristwatch pictures probably the most famous mayor of the 20th century. Richard J. Daley, the father of Chicago's current mayor, Richard M. Daley, was mayor from 1955 to 1976. The second flag he's holding is Chicago's flag. Most political wristwatches sell for about $50 to $75. Yours is fairly rare, however, and could sell for more.
Copyright 2018 The Lawrence Journal-World. All rights reserved. This material may not be published, broadcast, rewritten or redistributed. We strive to uphold our values for every story published.