Perry — Nobody anticipated the weather from a week ago would play such a factor in the USA Cycling Collegiate Road National Championships at Perry Lake on Saturday.
But with the lake's water levels flooding out parts of the original course for the road race, cyclists had to take a different route around the lake - through gravel.
"I like to ride gravel in my spare time when I train, so I was kind of OK with bouncing around and getting beat up," said Kansas University's Jason Knight following his 38th-place finish with a time of 3:47:25 on the 84-mile course. "But it was definitely harder."
The hard gravel section translated into flat tires. A lot of flat tires.
"Everyone was hitting it as hard as they could through the gravel because it's kind of a decisive area, but left and right people were pulling up with flats," said KU's Jeff Schroeder, one of many riders unable to finish the three laps around Perry Lake due to the lack of available rubber. "I made it through, and I guess I got a flat right at the end of the gravel. I was actually getting excited because I was like, 'Wow, I made it through the gravel, I'm with the front group. This looks good.' But it was good that Jason made it through because he's our strongest guy."
Fortunately for Whitman College's Mara Abbott, she was at the head of the Division II women's pack going into the new section. As a result, Abbott was able to win her third consecutive road race title by dominating the field with a time of 2:57:15 - 33 seconds ahead of the runner-up.
"I knew if I was going hard enough, nobody was going to come around me, so I rode first wheel the entire way through the gravel, which let me pick my lane so I wasn't going to hit a big rock or something," said Abbott, who is also the reigning criterium and omnium champion. "It's one of those things that it's a really big shame. I was in a position that I could do something about it for myself, personally, but that didn't save our whole team.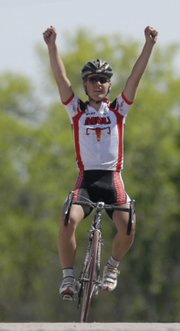 "It's a shame because it makes the course less selective because there's a bunch of good hills on the original course, and then the entire first half to two-thirds of the lap was just pancake-flat," Abbott added about having to change routes. "It takes the tactics out a little bit : but at the same time the course is under water, so what are you going to do?"
With the high temperatures also playing a part in the races, Midwestern State's Alex Boyd still was able to pull away from a five-man breakaway in the closing miles of the D-I men's race. He won on by more than 25 seconds with a time of 3:46:09.
"It was extremely hot out. I'm just glad it's over," Boyd said. "I was hurting, but I didn't want to just throw away a 30-second lead."
While the D-I men and D-II women were blowout victories, it was the complete opposite in the D-I women and D-II men.
Florida's Rebecca Larson was fortunate enough to be at the front of a pack of 26 riders as they crossed the finish line, taking first with her time of 2:47:52.
For Toby Marzot of Dartmouth College, a photo finish had him crossing the line first at 3:57:24.4, with Colorado College's Todd Nordblom (3:57:34.5) and Whitman's Duncan McGovern (3:57:24.8) taking second and third.
Kansas State's Mark Smelser, the defending criterium champion and a native of McLouth, was able to overcome the heat and gravel to finish the Division I race in 24th with a time of 3:46:41 - just seconds behind the first pack to cross the finish line.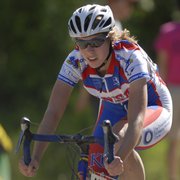 Of the three KU men, Schroeder was the only victim of a flat tire. John Giles completed the course in 80th with a time of 4:28:20.
Kansas' only two women riders, Kristen High and Kathy Kalbac, finished 66th and 67th respectively at the same time (2:55:56).
Attempting to defend the Division II team title, Whitman, a college in Walla Walla, Wash., is now 25 points behind first, after gaining four points on Western Washington University.
"Hopefully, we'll defend," Abbott said. "That's probably the most fun one - to defend the team title because the whole team would get credit."
In the D-I team omnium, the top two teams from last year are currently in second and third in the standings. Fort Lewis College, which took second to the University of California-Davis in 2006, is just eight points behind Stanford's mark of 351, while UC-Davis is another 38 points back.
Copyright 2018 The Lawrence Journal-World. All rights reserved. This material may not be published, broadcast, rewritten or redistributed. We strive to uphold our values for every story published.