In the three years Lawrence has hosted the USA Cycling Collegiate Road National Championships, the team time trials title for the Division I men has belonged to just one team - Fort Lewis College.
For the third consecutive year Friday the college from Durango, Colo., won the D-I race by finishing 13 seconds ahead of the University of Colorado with a time of 23 minutes, 16.6 seconds on the South Lawrence Trafficway.
"We were a little bit faster than we expected," Fort Lewis' Noah Singer said. "At the turn-around we felt good; we came back and hammered it."
But it wasn't the same course Singer and his Skyhawk teammates - Chris Kuhl, Joey Thompson and Ian Burnett - took in the pre-race preparations. It was reversed.
"The tactics were opposite direction on the course as we rode on the right side of the road," said Singer, who is making his first appearance at nationals. "We learned last night that they changed it. We did the climb first instead of towards the middle of the race. ... Everybody had to deal with it, and with the top three schools being from Colorado, that's saying something - we're used to the climbing."
Their female counterparts - Sabrina Kraushaar, Christy Roberts, Kristin McGrath and Molly Hummel - made it a sweep for Fort Lewis with their time of 27:21.2 - eight seconds better than the reigning champs, the University of California-Davis.
"We really wanted to win - it was close, but we killed it," Hummel said. "I thought we had a really strong team ... and I thought it was going to be close, but I knew we could do it."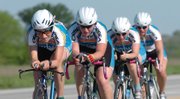 In the D-II women's race, Mara Abbott - last year's road race, criterium and omnium champion - led Whitman College as it began its D-II overall title defense by dominating the field with a time of 28:14.8 - more than a minute ahead of second-place Western Washington University.
"This is my third year winning the race and it's the team's fourth year, so we felt pretty confident coming into it," Abbott said. "Since we were able to start last that's an advantage because you can kind of time the splits from the turn-arounds and it looked pretty good."
Despite the efforts of Abbott and teammates Mia Huth, Rebecca Jensen and Kendi Thomas, WWU leads in the overall standings due to Chris Daifuku, Nick Clayville, Phil Elsasser and Logan Wetzel winning the men's race at 23:46.0.
For the two Kansas-based colleges, the opening day of the championships was a struggle.
McLouth native Mark Smelser was a member of the Kansas State team that finished 16th during K-State's first appearance in the team time trials.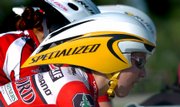 "We haven't done a whole lot of time trials, so we just came out here and did our best," said Smelser, the defending D-I criterium champion. "That's about all we could do. I think we left it all on the course, so we did a good job today."
The Kansas University men's team of Jason Knight, Jeff Schroeder, Christian Beer and David McLeod had a time of 26:12.0, placing them ahead of just one team - the University of New Hampshire, which had a time of 27:02.2.
"We had some trouble finding a good slip-stream, a good draft," Beer said. "We were always in the wind. Even on the way back we were in the wind, so that was tough - and by that time we had already lost David, so it was even tougher."
The Road Nationals will continue today with the individual road race at Lake Perry. The Division I women's group will start the day at 8 a.m. for the 56.4-mile race, while the Division II women kick off at 8:15.
D-I men's participants will get under way at 11:30 in an 84.6-mile, three-lap race around the lake, with the D-II men beginning 15 minutes later.
Copyright 2018 The Lawrence Journal-World. All rights reserved. This material may not be published, broadcast, rewritten or redistributed. We strive to uphold our values for every story published.