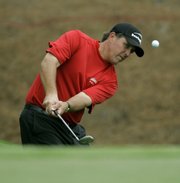 Ponte Vedra Beach, Fla. — Take your choice.
Either Rory Sabbatini deserves praise for being boldly confident. Or he should be ripped for being stupid in calling out Tiger Woods.
Unofficially, stupid is leading.
Sabbatini became the story Thursday during the first round of the Players Championship. A 5-under-par 67 left him tied for the opening-round lead with Phil Mickelson at the TPC at Sawgrass.
But after shooting a terrific round in conditions that featured wind gusts up to 39 m.p.h., Sabbatini shot off his mouth with bluster aimed at Woods.
Several times, Sabbatini said the world's No. 1 player is "as beatable as ever." Woods did look beatable Thursday, opening with a 75.
Nevertheless, when asked about the prospect of a final round pairing with Mickelson on Sunday, Sabbatini flatly said, "No. I want Tiger. Everyone wants Tiger. I want him to pick it up and we'll be up there late on Sunday."
All that bold talk is ridiculous considering what occurred last Sunday . Sabbatini went into the final round of the Wachovia Championship with a one-shot lead over Woods. The South African said he relished the opportunity to beat Woods head-to-head. Somehow he thought he could validate his victory in the 2006 Nissan Open in which Woods had to withdraw because of illness.
So what did Sabbatini do with his big chance? He hit a complete shank with a 74 to finish in a tie for third, joining the long line of players who fold in the ultimate pairing. Woods, meanwhile, chugged in with a 69 to win his third tournament of the year. You might think the experience would have knocked down Sabbatini a notch or two. It didn't.
"The funny thing is after watching him play Sunday, I think he's more beatable than ever," Sabbatini said. "I think there's a few fortuitous occasions out there that really changed the round for him. And realizing that gives me even more confidence to play with him on Sunday."
Sabbatini didn't stop there. Apparently, he didn't get the memo that Woods has won nine of his last 12 PGA Tour starts.
"I've seen him when he figures it out (referring to Woods' 1999-2001 run). It's scary," Sabbatini said. "I like the new Tiger. I'm waiting for him to have kids to really test his patience."
Sabbatini hardly is a stranger to controversy. At the 2005 Booz Allen Classic, Sabbatini became so frustrated with the slow play of Ben Crane, he walked ahead on a hole and then was seen berating his playing partner. Sabbatini's display drew jeers from the gallery.
The incident didn't endear Sabbatini to his fellow players. In a recent Sports Illustrated poll, he was the runaway winner (loser) as the least-desired playing partner on tour.
Copyright 2018 The Lawrence Journal-World. All rights reserved. This material may not be published, broadcast, rewritten or redistributed. We strive to uphold our values for every story published.