Photo Gallery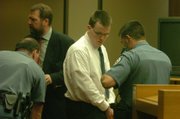 Jason Rose conviction
Shortly before noon today, a Douglas County District Court jury found Jason Allen Rose guilty of lesser charges in a deadly fire at Boardwalk Apartments.
He was convicted of three counts of involuntary manslaughter; one count of aggravated arson; and seven counts of aggravated battery.
Sentencing is set for June 18. He is looking at a maximum sentence of 122 months in prison, although he will get credit for the 19 months he's already served in custody. He's also eligible for 15 percent off the sentence if he doesn't have discipline problems in jail.
Rose, 21, originally was charged with three counts of felony murder in the Oct. 7, 2005, blaze at the apartment building where he lived. But the judge in the case told jurors that they could return an involuntary manslaughter verdict if they believed Rose recklessly set the fire -- but didn't know people could die from it.
Three people died in the fire: Nicole Bingham, a Kansas University student, Jose Gonzalez, an electrician and Yolanda Riddle, a social worker. About 20 people suffered injuries from the fire, some of them severe.
Rose's former pastor, Leo Barbee of Victory Bible Church, said after the verdict that he thinks Rose is innocent.
"I think there's too many unanswered questions," he said. "My prayer is that the person who really did it will come forward... I'm saddened."
Defense attorney Ron Evans said, "I'm pretty happy... Jason wanted an acquittal, but this is the next best thing to it."
Nancy Bingham, mother of fire victim Nicole Bingham, said she was comfortable with the jury's decision.
"My job now is just to accept things the way they are," she said. "The jury had to weigh all that evidence and come up with some hard decisions."
District Attorney Charles Branson said afterward the jury's verdict was "inconsistent."
"There's a little bit of a fiction that's gone on here with regard to what the law is," he said.
The reason is that to convict Rose of first-degree murder under the state's "felony murder" law, prosecutors had to prove only that he committed an "inherently dangerous felony"- in this case, aggravated arson -that led to people dying.
Jurors found Rose guilty of aggravated arson, which means they believe he set the fire, but instead of finding him guilty of murder convicted him of the lesser charge of involuntary manslaughter. Branson said that his office objected to Judge Jack Murphy giving jurors that option.
"We achieved the most difficult charge to prove, aggravated arson, but the jury saw fit not to convict on the felony murder charge," he said. "It is inconsistent."
Jurors left the courthouse without stopping to grant interviews.
Copyright 2018 The Lawrence Journal-World. All rights reserved. This material may not be published, broadcast, rewritten or redistributed. We strive to uphold our values for every story published.