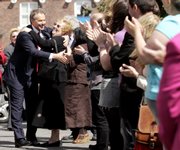 London — Tony Blair announced his resignation Thursday in a poignant - almost apologetic - speech to the nation, thanking his compatriots for his successes during more than a decade as prime minister, and seeking understanding for leading Britain into an unpopular war in Iraq.
Blair's June 27 departure means the mantle will likely pass to Gordon Brown, the rumpled architect of Britain's economic prosperity. Pilloried for everything from his dandruff to his alleged ruthlessness, Brown has long waited for the chance to emerge from Blair's shadow.
Blair won three straight terms as prime minister by banking on his common touch - a style that served him well as he returned to the northern England political club where he announced his campaign for Labour Party leader 13 years ago.
Visibly emotional, he struggled to keep smiling and offered a response to critics who have lambasted him for dragging Britain into the Iraq debacle.
"Hand on heart, I did what I thought was right," Blair told cheering and often tearful supporters. "I may have been wrong, but that's your call. But believe one thing if nothing else: I did what I thought was right for our country."
A pivotal moment in his decadelong reign came on Sept. 11, 2001, Blair said as he defended his stalwart relationship with the United States. Standing shoulder-to-shoulder with America earned him the admiration of two presidents.
President Bush described Blair as "a man who kept his word, which sometimes is rare in the political circles I run in." Bill Clinton praised Blair for taking the lead on climate change, debt relief for poor nations and aid for Africa, and for bringing peace in Northern Ireland and Kosovo.
In Blair's wake comes Brown, the prime minister's partner in pushing the Labour Party toward the center. Though Brown is expected to easily win election as the party's leader and become the next prime minister, Blair has stopped just short of an open endorsement.
With Blair wounded by criticism of the Iraq war, the two men stuck together during the 2005 election campaign, at one point famously facing the cameras and eating ice cream. But the camaraderie sometimes seemed forced even though they rarely disagreed on the issues in public.
On one occasion as he sat beside Blair during that campaign, Brown was asked whether he would have done the same as the prime minister over Iraq. There was a long pause before Brown said, "Yes."
Copyright 2018 The Associated Press. All rights reserved. This material may not be published, broadcast, rewritten or redistributed. We strive to uphold our values for every story published.