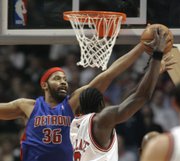 Chicago — Tayshaun Prince and Chauncey Billups stepped up at just the right time and the Detroit Pistons are on the verge of another series sweep.
Prince scored 23 points and Billups added 21, and the Pistons rallied from a 19-point deficit to beat the Chicago Bulls 81-74 on Thursday night in Game 3 of the Eastern Conference semifinals.
The Pistons, who swept Orlando in the first round, will try to wrap up this one Sunday at the United Center.
No NBA team has won a best-of-seven series after dropping the first three games, and only three major professional teams have done that - the 1942 Toronto Maple Leafs, 1975 New York Islanders and 2004 Boston Red Sox.
"We love a challenge, man," Billups said. "We love any time we can get 20,000 fans against us and we can start hearing the crowd boo us and the hecklers. We just take that challenge, man, and we love those situations. We thrive on those situations."
After blowing out the Bulls in the first two games at The Palace of Auburn Hills, the Pistons trailed 44-28 at halftime. They were down 49-30 early in the third and 55-38 midway through the quarter, and they certainly were hearing it from a raucous crowd.
But Prince, Billups and Rasheed Wallace brought them back. Now, they're one win away from their fifth straight conference finals.
"Perseverance - that's the type of team that we are," Wallace said. "No matter what the deficit is, we feel that we can come back from it."
Prince scored 13 points in the third quarter and Billups added 10. Wallace had a block in the closing seconds and hit a 3-pointer at the buzzer to pull Detroit within 61-60. He then put them ahead with a jumper just under two minutes into the fourth and added a three-pointer that made it a five-point game midway through the quarter.
"I was encouraged. We knew at the start of the game we allowed them to take the first punch and we weren't as aggressive as we should have been," Billups said. Then he explained the comeback: "It was our defensive pressure. It allowed us to get in the passing lanes, get steals. We had settled too much. In the second half we got aggressive and played Piston basketball."
Wallace had 16 points, 11 rebounds and five blocks for Detroit, and Richard Hamilton scored 16 points.
Luol Deng led Chicago with 21 points, but was just 8-for-22 from the field. The Bulls were 28-of-83 (33.7 percent) almost the same percentage (33.6) they managed in the first two games, and again, they had no answer for the Pistons' zone.
Copyright 2018 The Associated Press. All rights reserved. This material may not be published, broadcast, rewritten or redistributed. We strive to uphold our values for every story published.