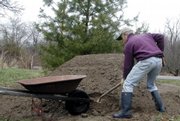 Topsoil is one of the haziest terms used by gardeners, and by those who sell the stuff.
After all, it's nothing more than the top layer of soil. But real topsoil also is the most fertile portion of soil, formed in forests as autumns leaves are digested by soil life, releasing nutrients and creating humus. In the meadows the remains of old roots, leaves, and stems of flowers and grasses decay to create a potent mix on which new plants thrive.
No wonder the feeder roots of all plants - from magnificent maples to midget marigolds - choose to live and work in the topsoil! Here is where roots find a soft bed and a congenial mix of food, water, and air.
Real topsoil, which takes centuries, even millennia, to develop, is a limited resource and is not what you necessarily get when you purchase "topsoil."
That topsoil might be whatever soil happened to be in the upper layer of any piece of ground, which could be what was left after the real topsoil was eroded or stripped away.
Or, purchased topsoil might be made by mixing almost any soil with some organic material such as compost or leaf mold, actually creating a good substitute for the real thing.
Because topsoil is so ill-defined, ask questions before you buy it. Ask whether the topsoil was mined or made. Ask how much organic matter the topsoil contains. A rich, natural topsoil has about 5 percent organic matter.
Ask whether the soil is a clay, sand or loam. For most purposes, loams are ideal. Clays tend to stay too wet and sands tend to be too dry.
Also ask yourself a question: Why are you buying topsoil? (It can run between $25 and $45 per cubic yard.) If you're buying it to enrich poor soil in your vegetable or flower garden, don't. Use homemade or purchased compost instead.
If you need soil to fill a low spot, first fill the bulk of the depression with any cheap dirt, preferably a loam or sand. Then top the whole area with a layer of topsoil a few inches deep.
Thinking of putting in a new lawn? Topsoil is an ideal covering for the poor dirt left at most construction sites or where topsoil has been stripped away or is otherwise lacking.
No matter where you use topsoil, don't dig it in.
Instead, spread it on top of the ground, where it does the most good. A 3-inch layer of topsoil is generally adequate for most uses, which translates to about a cubic yard to cover every 100 square feet of ground.
Copyright 2018 The Associated Press. All rights reserved. This material may not be published, broadcast, rewritten or redistributed. We strive to uphold our values for every story published.