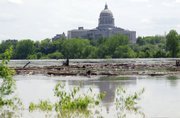 Flooding in Kansas
State and local officials continued to watch for rising water and falling rain on Wednesday as more precipitation moved back over an already soggy Kansas. Bill Miskell, spokesman for the Kansas Department of Emergency Management, said 31 counties were in a state of local disaster emergency as creeks, streams and rivers remained at or near flood stage. A line of storms moved north out of Oklahoma Wednesday morning, prompting new warnings in southeast Kansas in Bourbon, Cherokee and Crawford counties.
Kansas City, Mo. — Flood water topped at least 20 levees protecting low-lying communities along the Missouri River and other nearby streams, authorities said Wednesday.
Stretches of highway have been closed and thousands of people have been evacuated because of flooding caused by the huge weekend storm system that also devastated Greensburg with a deadly tornado.
"It's a major flood," said National Weather Service meteorologist Suzanne Fortin. "It won't be a record breaker, but it will be in the top three."
Missouri Highway Patrol troopers were working 24-hour shifts near Big Lake, a village of about 150 permanent residents, which was inundated after nine levee breaks, said Lt. John Hotz.
Two levees were topped by high water during the night, authorities said. In Levacy, water from the Missouri River had started to encroach on the town and evacuations were under way Wednesday, Fortin said.
Authorities evacuated 300 to 400 residents Wednesday from the unincorporated town of Levasy as the Missouri River rose. At least a dozen homes were partially under water, a Jackson County dispatcher said Wednesday.
Big Lake, two miles from the Missouri River about 95 miles northwest of Kansas City, was inundated Tuesday.
"The town is a loss. At this time, we don't know, but it looks like that's what's going to happen," Mark Sitherwood, presiding commissioner of Holt County, said Tuesday.
Missouri Gov. Matt Blunt declared a state of emergency and mobilized National Guard troops to help.
At least 19 Kansas counties declared local disaster emergencies.
Two-thirds of the town of Mosby, 20 miles northeast of Kansas City, was under 2 to 4 feet of water Tuesday from the overflowing Fishing River, said D.C. Rogers, Clay County director of emergency services.
Missouri's state capital, Jefferson City, was preparing for flooding expected Wednesday or today. After floods in 1993 and 1995, the city raised the elevation of its riverside sewage treatment plant, and the federal government bought out scores of homes on the north shore of the river, but the airport and businesses are still vulnerable.
Copyright 2017 The Associated Press. All rights reserved. This material may not be published, broadcast, rewritten or redistributed. We strive to uphold our values for every story published.