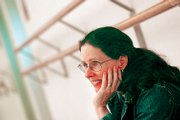 New Works concert
Who: 940 dance companyWhen: 7:30 p.m. Friday and SaturdayWhere: Lawrence Arts Center, 940 N.H.Cost: Adults, $13; students and seniors, $7.50
When 940 dance company wraps up its New Works Concert Saturday night, it will be closing the books on another season, as well as on the career of its artistic director.
Susan Warden, who has been with the troupe for eight years, the past three as artistic director, is "retiring" from dance - or at least inasmuch as that's possible for someone who has spent a substantial chunk of her life choreographing and performing. She's still deciding where or whether she'll move.
"I love what I do," Warden says. "I love to choreograph."
Candi Baker, director of the Lawrence Arts Center's dance program and the founding artistic director of 940 dance company (which then was called the Prairie Wind Dancers), says Warden has been a gift to the troupe.
"I think Susan Warden is wonderful," Baker says. "She's done some wonderful work. Even beyond 940, she had her own company here in Kansas in the '80s. It was the first area dance company I saw when I moved here."
Baker calls Warden one of the strongest choreographers in the area. She's produced five pieces in her time as artistic director, when it can take some dancers a year or more to set an entire work.
For her last performance, Warden has produced "Undercurrents," a longer piece featuring four dancers who explore the undercurrents of relationships, as portrayed through family photographs.
Warden says the dance has gentle and pattern-like movements that illustrate emotion and lack of emotion.
"There are three different kinds of movements," she says. "One is walking and running through space in simple patterns. Another is very dancerly, with sweeps and turns. The third is more pedestrian, everyday movement."
Warden says some of the movements were created by the artists themselves.
"Undercurrents" will close the New Works Concert; four other pieces by three choreographers will precede it. The other pieces are "the wish and the well" and "Goldilocks," by Michael Ingle; "In Spite Of," by Tuesday Faust; and "Wandering's Brother," by Kathleen O'Connor.
Warden's work hasn't been confined to choreographing for 940 dance company. She also helped expand the annual Choreographer's Showcase into an event that last year brought many area choreographers to Lawrence to talk and educate one another.
"There's a lot of good dance in the region, but we don't often get much chance to get together," Baker says. "She was instrumental in bringing about that event."
Baker says Warden and the company also have been involved in updating the performance that the group does for Young Audiences, out of Kansas City.
For her time with the company, Warden will be recognized during a reception following the Saturday evening performance.
"We're going to do some special things for her there," Baker says.
The arts center also has hired a new artistic director, though Baker emphasized that this week should focus on Warden. Susan Rieger, who will be leaving her role as artistic director of aha! dance theatre in Kansas City, Mo., will lead 940 dance company next year.
Copyright 2018 The Lawrence Journal-World. All rights reserved. This material may not be published, broadcast, rewritten or redistributed. We strive to uphold our values for every story published.