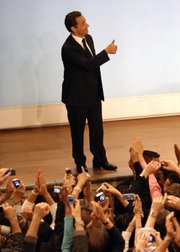 Paris — Conservative Nicolas Sarkozy won the French presidency by a comfortable margin Sunday and immediately signaled his victory would mean friendly relations with the United States.
His socialist opponent, Segolene Royal, conceded defeat for her hopes of becoming France's first female president. With nearly 70 percent of ballots counted, Sarkozy had just more than 53 percent of the vote, according to the Interior Ministry.
Washington can "count on our friendship," Sarkozy told hundreds of cheering supporters, though he added that "friendship means accepting that friends can have different opinions."
President Bush swiftly phoned the new president-elect to offer congratulations.
"The United States and France are historic allies and partners. President Bush looks forward to working with President-elect Sarkozy as we continue our strong alliance," said Gordon Johndroe, spokesman for the White House National Security Council.
Largely untested on the global stage, Sarkozy delved into foreign policy in his first speech as president-elect, urging the United States to take the lead on climate change and saying the issue would be a priority for France.
"The people of France have chosen change," Sarkozy said, while pledging to be "president of all the French."
Voter turnout was projected at 85 percent - a level not seen in 40 years - thanks to the dynamism of both candidates and the high stakes for a nation losing global clout to neighbors Britain and German and even developing countries like China and India.
"I gave it all my efforts, and will continue," Royal told supporters as she conceded defeat. "Something has risen up that will not stop."
Sarkozy - a charismatic but divisive figure known for uncompromising, even brutal language - inherits from Jacques Chirac stagnant wages, a lagging economy and frustration in impoverished, immigrant-heavy suburbs. While exuberant Sarkozy supporters partied in central Paris, police quietly looked out for possible unrest in suburbs where Sarkozy is unpopular and riots broke out in 2005.
Sarkozy - for whom the presidency has been a near-lifelong quest - is certain to face resistance to his plans to make the French work more and make it easier for companies to hire and fire.
Sarkozy, 52, says France's 35-hour work week is absurd, and as interior minister, cracked down on drunken driving, crime and illegal immigration.
He is an admirer of the United States who has borrowed from some American policy ideas. Tough-talking and blunt, he alienated many in France's housing projects when he called young delinquents "scum."
At a polling station near Paris' Champs-Elysees, Anne Combemale said she voted for Sarkozy because of his market-oriented economic platform.
"He has the willpower to change France," said Combemale, 43, who is unemployed.
Sarkozy has drawn up a whirlwind program for his first 100 days in office and plans to put big reforms before parliament at a special session in July: One bill would make overtime pay tax-free to encourage people to work more, and another would put in place tougher sentencing for repeat offenders.
Copyright 2018 The Associated Press. All rights reserved. This material may not be published, broadcast, rewritten or redistributed. We strive to uphold our values for every story published.