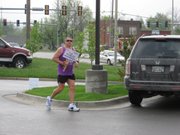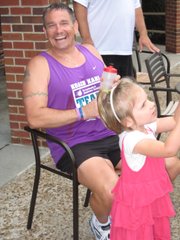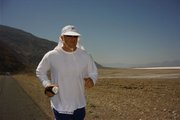 Karl Keltner has completed 16 Olympic-distance triathlons, ridden a bike close to 300 miles in one event and run the grueling 135-mile Badwater Ultramarathon. Twice.
But those accomplishments - and the dozens of marathons and ultramarathons he also has run - pale in comparison to his latest undertaking.
Keltner, from Liberty, Mo., plans to run 26 marathons in 26 days in the Kansas City metro area. He completed his first 26.2-mile run May 1. Run No. 7 starts at 7 a.m. today at the Lawrence Starbucks, 647 Mass.
"It's the biggest thing I've ever done," said Keltner, who answers to "Koach Karl." "This type of thing has been done by better athletes than me. I'm just a normal guy. I don't go fast. I just go out and slug through it."
Keltner's goal is to complete each run in under six hours.
That's not Boston Marathon-fast, but he'll make up in distance what he lacks in speed.
"My fastest marathon is 4:44, so I'm not smoking or anything," the 45-year-old Keltner said with a laugh. "But I'm fairly consistent. I hope I can stay that way. If I crash and burn one of those days, I won't lose any sleep over it."
Why, oh why?
Keltner is marathon coach for the Kansas City chapter of the Leukemia and Lymphoma Society's Team in Training program.
Team in Training is the world's largest endurance sports-training program, providing coaching to run or walk marathons and half marathons or participate in triathlons and 100-mile bike rides to benefit the Leukemia and Lymphoma Society.
Keltner's undertaking - which he has dubbed "Relentless for a Cure" - is designed to promote Team in Training, recruit runners for the Nike 26.2 race in San Francisco and promote overall health and fitness.
Keltner also hopes to raise $50,000 for the Leukemia and Lymphoma Society through donations from sponsors and runners who join Koach Karl on his daily runs.
So far, he has raised more than $11,000.
"It's just something I've never done," Keltner said. "There are people who have done a lot more. People have done 50 marathons in 50 days in 50 states. Honestly, I'm not ready for 50 marathons in 50 days. I have to be careful about what I say, but I definitely want to keep pushing myself and see what happens.
"If this does what I hope it does fundraising-wise, I'll have to bump it up. If I can raise $50,000 a year by punishing myself for a month, I'll do it."
Why this cause?
Curiously, Keltner hasn't been affected directly by leukemia or lymphoma.
"Really, it was just a fluke," said Keltner, a Team in Training coach since 1999 and owner of his own business, Athlon Endurance Training. "(Team in Training) got my name from a local running store and asked if they knew anybody who could coach. I talked to 'em and said, 'OK, I'll give this a try.'"
A former Marine, Keltner hasn't always been a runner.
In fact, his first run wasn't pretty.
"In my opinion, I'm just an average guy," Keltner said. "I'm definitely not built like a runner. I come from a bodybuilder background, oddly enough. The first time I did a marathon, I thought I was going to die. Then I thought, 'I can do better than that.'"
A personal trainer since 1982, Keltner has coached more than 1,400 TNT walkers and runners to successful completion of marathons.
He also has completed 37 marathons - before starting his 26-in-26 string - 16 ultras and three Ironman-distance triathlons.
"My thing is, when I do these events, the pain I experience is nothing compared to what our patients go through," Keltner said. "Bone marrow, chemotherapy : that's just brutal. I come home, take a nice, warm bath and a couple of Advil, and the pain goes away."
'Am I going to crack?'
Keltner has no idea how much pain he'll endure over the next 20 days.
He was dismayed to develop pain in an Achilles tendon on Friday - just four days in - but said he felt much better after Sunday's run.
"(Sunday) went well, actually," he said. "It stormed the whole time, but it was just really nice to be out there. I had a really good day. My attitude is better each day, and I'm not sure why. It's nice to have the support of a lot of people. It was a very positive week. The only thing that hasn't cooperated is the weather. So far, four of the six days I've run in rain, but that's all right. Today, the people I was running with I was trying to splash 'em as we went through puddles."
Keltner encourages runners at all of his stops to join him. He suggests small donations, and so far turnout has been small but steadily increasing.
"The first three were pretty much solo, but then it kinda picked up," Keltner said. "Friday, I ran by myself for eight miles. Saturday, I didn't run by myself at all. That helps so much, having someone to talk to. You can only listen to so much music."
Marathoners often complain about hitting a proverbial "wall" at the 20-mile mark. Does Keltner expect to butt up against a similar obstacle at Day 20?
"It seems like I'm feeling better mentally each day," he said. "How long can that last? I don't know. Am I going to crack halfway through and not want to run another step? I don't know. But I don't attempt anything I think I can't do. I plan to succeed. I don't plan to fail."
Copyright 2018 The Lawrence Journal-World. All rights reserved. This material may not be published, broadcast, rewritten or redistributed. We strive to uphold our values for every story published.