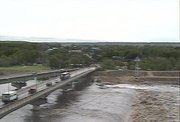 A flood warning is in effect for Douglas, Leavenworth and Wyandotte counties through 12:30 p.m. Monday afternoon. Light to moderate rainfall is expected through the day allowing stream and river levels to rise. Water could spill over roads and into low-lying areas.
Just before 1 p.m., the warning was extended to 3:45 p.m., and included Franklin, Osage and Jefferson counties.
Continuing rains were expected to push the Kansas River above flood stage later in the week, Douglas County emergency officials said Monday morning.
Bob Newton, a spokesman for Douglas County Emergency Management, said in an e-mail to news organizations that the river is expected to crest at 19 feet 3 inches on Tuesday - flood stage is at 18 feet.
Dena Mezger, assistant public works director for the city, said that crews were closely monitoring the rising river.
The 13-mile Kansas River and Mud Creek levee system - which protects North Lawrence from flooding - contains 25 tubes that must be manually opened and closed during storms. The tubes, when open, allow stormwater to flow out of North Lawrence into the river. But if they are left open too long and the river rises too high, the tubes provide a way for Kansas River water to rush into North Lawrence.
Mezger said crews were carefully watching the river to determine when to close the tubes.
"They're really staying on top of it," Mezger said.
She said crews were optimistic that North Lawrence wouldn't experience significant flooding as a result of the recent storms.
"So far, we feel pretty good that it is not going to be a huge impact," Mezger said. "We're hoping that the worst of it has already passed."
North of Lawrence, in Jefferson County, the deluge caused flooding problems and a porch-roof collapse.
Heavy rain caused the roof of a smoking area porch to collapse at Valley Health Care Center in Valley Falls shortly after 6 a.m., according to the city fire department. Five people were taken to a hospital. Other residents were evacuated to the Delaware Township Hall.
Also in Jefferson County, Muddy Creek near Grantville was out of its banks, causing U.S. Highway 24 to be closed in both directions.
Three residents in the Grantville area voluntarily evacuated themselves to higher ground because of the threat of flood waters, said Doug Schmitt, Jefferson County Emergency Management director. A resident of a third home was evacuated with an air boat but it wasn't a life-threatening situation, Schmitt said.
At least two water rescues were taking place this morning in Douglas County. And Newton said flood concerns had closed the following roads and areas:
¢ Burcham Park, south side of Kansas River.
¢ 700 block of East 661 Diagonal Road, under four to five feet of water.
¢ 1624 North 200 Road, under 10 inches of water.
¢ East 1575 and North 220 roads, under about a foot of water.
¢ 11th Street and Haskell Avenue.
¢ 200 and 300 blocks of North Street.
¢ 1600 block of North 1500 Road.
¢ Third and Michigan streets.
More news as it develops.
Copyright 2018 The Lawrence Journal-World. All rights reserved. This material may not be published, broadcast, rewritten or redistributed. We strive to uphold our values for every story published.