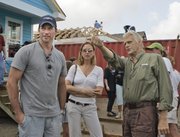 New Orleans — Singer Harry Connick Jr. wielded a paintbrush. R&B; heartthrob John Legend did a little laundry.
The two were among the musicians performing at the New Orleans Jazz and Heritage Festival and giving back to a region still trying to recover from Hurricane Katrina.
Dozens of volunteers worked on homes Saturday, the penultimate day of the festival, in the Musicians' Village. Connick started with saxophonist Branford Marsalis to help displaced musicians and keep the musical traditions of his hometown alive.
"It's not about guilt," he said from the front porch of one of the candy-colored, shotgun houses that stick out among the vacant houses and empty, overgrown lots in this storm-ravaged section of the Upper 9th Ward. "I just don't want to see it go away."
Connick said he envisioned a village made up not only of houses but also of cafes, jazz clubs, mom-and-pop-type businesses and a music center for children - a community where kids can ride their bikes down the streets "all the while hearing music."
As Connick's daughters Georgia, 11, and Kate, 9, pushed brooms across the floor of a home littered with construction debris, Connick trimmed a bedroom window with blue paint.
Legend washed clothes as part of a free mobile laundry service for families still living in federally issued trailers in hard-hit St. Bernard Parish. Not all trailers that hurricane-affected families live in come equipped with washers and dryers.
Other Jazz Fest musicians also are giving back: Marcia Ball, Ivan Neville and Walter "Wolfman" Washington were among the performers who helped raise money for instruments in New Orleans area schools. On Monday, singer Joss Stone is to work with Habitat for Humanity and the Internet-based travel company Travelocity to promote volunteer work in New Orleans.
A number of Jazz Fest performers also have recorded or committed to record Fats Domino songs for a tribute benefiting the Tipitina's Foundation, a nonprofit dedicated to providing the city's public schools with instruments and helping artists recover from the hurricane. Among those involved are Bonnie Raitt, pianist Henry Butler and Norah Jones.
Copyright 2018 The Associated Press. All rights reserved. This material may not be published, broadcast, rewritten or redistributed. We strive to uphold our values for every story published.