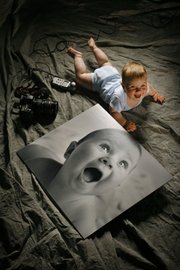 Kansas City, Mo. — You've come a long way, baby photos.
For years professional photographers offered portraits with a limited number of multicolored mottled backgrounds, cutesy props and fancy outfits. But now other options are available
Black-and-white photography is the reigning style. Studios have eliminated their busy backgrounds, props are rarely used and babies wear only a diaper. Or they're naked.
"The focus is on the baby," says Shea Swinford, owner of Shea Photography in Olathe, one of a growing number of photographers who specializes in black-and-white photography. "It's not about anything else."
Swinford moves swiftly, concentrating on a baby's fleeting features: the dimples and rolls of fat on the arms, the wrists that look like they're wrapped in rubber bands. She doesn't use props unless "they make sense."
A hand-crocheted blanket, for example, can add meaning and texture to the photo, but it typically fades into the background so the marshmallow softness of the baby's skin is accentuated by the lighting.
No saying cheese
"Baby photography has become more like art," says Cathy Brookfield of Kansas City. She hung black-and-white pictures of her 7-month-old daughter, Caitlyn, in her dining room, family room and bedroom. "They're definitely different from my baby pictures, (which) were more about saying 'cheese' for the camera. Those are fun, but these are more timeless. I don't think they'll ever be dated."
When Caitlyn was 2 weeks old, Brookfield took her to the Square Studio in Liberty. Myndi Pressly, the same photographer who shot Brookfield's wedding, took close-ups of Caitlyn's ears, hands and feet. Pressly designed a collage of the tiny body parts.
Then Brookfield and her husband, Biff Brookfield, took Caitlyn back when she was 3 months old. This time Caitlyn was smiling and giggling, much more alert. Pressly snapped photos of the three Brookfields interacting, not posing.
"The family portrait has been redefined," says Pressly, who owns the studio with photographer Ashley Farley. "People are more interested in celebrating the moment, not going for that perfect smile for the camera."
What's changed?
The more sophisticated photography can be attributed to different lifestyle trends. More people are waiting until they're in their 30s to have children, an age when they're more advanced in their careers. The higher income can come in handy, as prices can be steep (see box at left). Also, the digital-camera age has turned everyone into a photographer, so professionals need to rely on technical skills (good lighting, for instance) that set them apart.
Babies are almost always relaxed for their sessions, photographers say. However, parents, especially the first time they have their child's picture taken, are the nervous ones. That's why photographers are creating workspaces that are half studio/half spa, where subtle aromatherapy candles and soothing instrumental music are the norm.
At the same time, more photographers are driving out to the clients to document life at home.
"At home, everyone is more comfortable," says photographer Rachel Meiring. "It's their space where they have their toys, their shoes and their food right there."
Trends
Meiring co-owns Black Dog Imageworks in Kansas City with her husband, Philip Meiring, and friend Doug Hesse. Philip takes baby photos in their Westport studio, where he has managed to make baby drool in mid-stream look beautiful. Rachel goes on location, taking pictures of babies sleeping in their nurseries, infants in wading pools and toddlers finger-painting on the tile surrounding the bathtub.
"Babies and kids are completely predictable in their spontaneity," she says. "You can count on a 1-year-old to run around the house, a 2-year-old to search for pine cones in the backyard and a 3-year-old to thrash sticks around."
Kansas City photographer Elaina Generally says the at-home-style of photography usually works best when a child can walk. She has taken striking photos, including a 2-year-old girl swinging in her backyard, cropped in on the girl's colorful polka-dot tights and worn-out red Keds.
This documentary style of photography was what Ashley Spaulding of Prairie Village wanted. She and some girlfriends each had children within a few months of each other and thought it would be fun for a photographer to take pictures of the kids at one of their houses. She wanted to see her 10-month-old daughter, Chaley, just "doing her thing."
But the photographer brought an unstylish background and tried to pose the five kids.
"We thought she really missed some great candid shots," says Spaulding, who acknowledges she didn't research the photographer's style enough or adequately communicate her expectations.
So far, that has been Spaulding's only experience with a professional photographer for Chaley. But she has taken digital photos of her daughter, enlarging one to an 8-by-10, turning it into a black-and-white.
Still, Spaulding is on the lookout for a professional photographer to take high-quality photos of her daughter, who is now 15 months old. "It's important to find the right photographer," Spaulding says. Babies are "only this age once."
Copyright 2018 The Associated Press. All rights reserved. This material may not be published, broadcast, rewritten or redistributed. We strive to uphold our values for every story published.