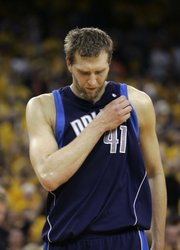 Oakland, Calif. — On the road in the most hostile of environments, with his team facing playoff elimination, the NBA's presumptive MVP was AWOL, MIA and just plain BAD.
Dallas forward Dirk Nowitzki took 13 shots and made two Thursday night in Oracle Arena. That's two fewer than Warriors center Andris Biedrins, who is not supposed to win the most coveted individual award in the game.
Nowitzki also scored eight points (his lowest output of the series), missed all six of his three-pointers, committed three turnovers and played spotty defense.
But he was 4 of 4 from the free-throw line!
"I thought I had some great looks, especially in the first half," Nowitzki said after a 111-86 loss to the Warriors ended Dallas' season. "I got away from them a couple times, but I never could find my rhythm today.
"Obviously, it's very, very frustrating. I didn't give my team anything. In a deciding game like that, it's tough."
All in all, it was a nightmarish playoff series for Nowitzki, who played like an MVP for about three minutes - the three minutes at the end of Game 5.
The Mavericks hoped that stretch, in which their leader hit two clutch three-pointers and blocked a shot, would carry over to Thursday.
Instead, Nowitzki was back to his passive self from earlier in the series. Only worse.
Frustrated by forward Stephen Jackson, bottled up by the Warriors' zone defense and looking a bit fatigued, Nowitzki settled for jumper after jumper. And he missed, time after time.
"He struggled, struggled to get free, to get open," Mavericks Coach Avery Johnson said. "When he did get the ball, they did a good job doubling him, and the five or six open looks he got just didn't fall."
Nowitzki's only basket when it mattered came with 39 seconds left in the first half. Meanwhile, he failed to defend Jackson during a three-point barrage that broke open the game in the third quarter.
Nowitzki didn't make his second field goal until the Warriors led by 25.
"This was one of those teams that was a tough matchup for us," Mavericks guard Jerry Stackhouse said. "And it was especially a tough matchup for Dirk . . . He had to play perimeter defense. Maybe it took a little out of his legs."
Nowitzki's teammates followed his lead, firing from the perimeter instead of attacking. And after Jason Terry's game-opening three-pointer, they went four minutes without a basket.
The skid ended when Stackhouse checked in and found his spot on the left side of the floor. During a seven-possession stretch, he drained three three-pointers, two from the corner and one from the wing. When the Stackhouse surge ended, the Mavericks had settled down and were within 19-15.
"The ball just wouldn't fall for us," Terry said. "And everything they touched went in. It was unbelievable. ...
"But give them credit. They were the better team in this series."
Copyright 2018 The Lawrence Journal-World. All rights reserved. This material may not be published, broadcast, rewritten or redistributed. We strive to uphold our values for every story published.