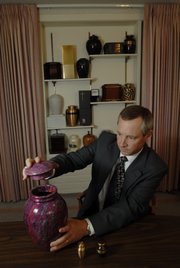 Twenty years ago, even in liberal Lawrence, less than 10 percent of the city's funerals involved a cremation.
Today, that number is closer to 40 percent, local funeral directors say.
That increase follows a national rise in the number of cremations. And Lawrence tends to be ahead of the curve, compared to the rest of the state.
"In a university town, there's less tradition involved," says Larry McElwain, co-owner of Warren-McElwain Mortuary and Cremation Services, 120 W. 13th St. "Whereas in many western parts of the state, there's more tradition, and that tradition involves being buried."
According to the Cremation Association of North America, based in Chicago, nearly 31 percent of the people who died in 2004 in the United States were cremated, and that number is rising steadily.
In Kansas, about 24 percent of those who died were cremated, ranking the state 19th among locales with the lowest percentage of cremations.
Lawrence funeral directors attribute the steady increase to a variety of factors, including a shift in religious beliefs.
"Generally, I think fewer and fewer ministers are advising what they have to do legally (in terms of church doctrine)," McElwain says. "They want to help families make decisions that are best for the families."
Pros, cons
While it may have been questioned in the past, many Christian pastors now acknowledge cremation as an accepted form of handling a body.
The Web site www.religioustolerance.org offers these arguments for Christian cremation:
¢ Depending on the container chosen for storage, it can be more economical than a casket.
¢ In some cases, there is no cost of a tomb stone or grave site.
¢ It allows scattering of the remains.
¢ Some people would rather have their body disposed of quickly by heat than allow it to decay in the grave.
But the site also offers several arguments against cremation:
¢ God chose to bury Moses upon his death.
¢ Many biblical references to burning of a body are negative, such as in cases of punishment, killings by Pagans or destruction of idols.
¢ The apostle Paul appears to favor burial in his letter to the Corinthians, when he talks about raising of the dead.
¢ Historically, the Christian church has advocated burial, reserving burning for witches and other "heretics."
Although beliefs vary among pastors even in the same denomination, some churches have made doctrinal shifts over time. In 1963, the Catholic Church lifted its prohibition forbidding Catholics to be cremated.
Other views
Other faiths take varied stances.
For instance, Eastern Buddhism - and Asian cultures in general - tends to favor cremation.
Judy Roitman, guiding teacher at the Kansas Zen Center, 1423 N.Y., notes that Buddha himself was cremated.
"There are no reasons not to," she says, "since Buddhism does not attach a spiritual importance to this particular body. For example, there is no notion of bodily resurrection."
She says it's more Buddhist custom - and not Buddhist doctrine - that encourages cremation.
Judaism has a different perspective. While some Jews accept cremation, Rabbi Zalman Tiechtel of the Kansas University Chabad Community Center says traditional Jewish law forbids cremation.
He cites several reasons for that stance, including:
¢ In Genesis, God tells Adam that, "For you are the dust and to the dust you will return," implying that bodies should return to the earth.
¢ Any violation of the human body - even in death - violates the idea that man is created in God's image.
¢ It violates the Jewish belief of returning the body to God in a wholesome state, and a rejection of the Jewish belief in resurrection of the dead.
'New traditions'
Bart Yost, a funeral director with Rumsey-Yost Funeral Home and Crematory, 601 Ind., says he still sees variation in religious thought when it comes to cremation.
"We do have some ministers who think cremation is the way to go, or is not the way to go," he says. "Each person has their own individual thoughts or ideas for what it means."
But he says most families or individuals who are pre-planning funerals come into the funeral home with a preconceived idea of what they want to do.
"People who come in seem to be fairly educated in the fact of what they're doing and what they want to do," Yost says.
Cost isn't always a determining factor. Yost says cremation can cost as much or more than a body burial, depending on the services and products purchased.
McElwain agrees, noting that cremation can involve many different service and burial arrangements, including:
¢ Viewing of the body before cremation.
¢ Burial of the remains below ground.
¢ Storage of the remains in one urn, as in a family member's home.
¢ Dividing the remains among several relatives.
¢ Spreading of the ashes.
Nowadays, McElwain says, people feel less bound by religious doctrine than by their own wishes.
"People are more free," he says. "They're not as tied to what the church would think or their friends would think.
"I see families trying to balance tradition with new traditions."
Copyright 2018 The Lawrence Journal-World. All rights reserved. This material may not be published, broadcast, rewritten or redistributed. We strive to uphold our values for every story published.