Audio Slideshow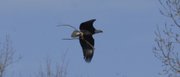 Eagle Eyes
Journal-World photographer Richard Gwin discovered 2 bald eagles building a nest north of Lawrence. He narrates an audio slideshow about these new neighbors.
If bald eagles leave the endangered species list - a possibility come June - two newborn eaglets north of Lawrence will be part of that accomplishment.
Many bird-watchers in and around Lawrence have observed the construction of a new nest by two adult eagles - and, recently, their two offspring.
Their birth is good timing as the U.S. Fish and Wildlife Service is due to re-examine species of animals that have dangerously low populations.
"There's a good chance they'll come off the endangered species list," said Mike Watkins, wildlife biologist with the U.S. Army Corps of Engineers.
Bald eagles perished in droves about 40 years ago, possibly from agricultural pesticides, but their resurgence has been particularly apparent near Lawrence.
"Remarkable may be the word," said Stan Roth, a local bird enthusiast. "The bald eagle is quite a comeback story, a comeback success story."
Watkins said that the population of bald eagle nesting pairs got as low as 413 at one point, but was up to 8,000 last year.
Bald eagles were observed near Clinton Lake in 1989, the first time in years the birds had nested near Lawrence.
Coincidentally, the female adult eagle that is nesting north of Lawrence was banded at that Clinton Lake nest.
Wildlife officials tried to band that female's eaglets last week, but couldn't get close enough to the nest.
Watkins said it was unlikely officials would try to band them again this year.
The young birds should start flying in three to four weeks.
That's welcome news for Roth and other bird-watchers.
"They seem to be doing well," Roth said. "And that's good."
Copyright 2018 The Lawrence Journal-World. All rights reserved. This material may not be published, broadcast, rewritten or redistributed. We strive to uphold our values for every story published.