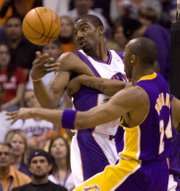 Phoenix — The Phoenix Suns didn't exactly run the Los Angeles Lakers out of the playoffs. Nudged them out is more like it.
Amare Stoudemire scored 27 points and Shawn Marion added 26, and the Suns overcame an inspired performance by Lamar Odom and a late scoring binge by Kobe Bryant to beat the Lakers 119-110 on Wednesday night.
The Suns won the best-of-seven first-round series in five games and advanced to a Western Conference semifinal matchup with the San Antonio Spurs. Game 1 of the series is Sunday afternoon in Phoenix.
The Lakers never led Wednesday, trailing by 15 points in the second quarter and 16 with 5:52 to go, but they kept coming back.
Odom, playing the whole series with a hyperextended elbow and torn shoulder cartilage, had 33 points and 10 rebounds for the Lakers, but it was Bryant who put the final scare into the Suns.
The NBA scoring champion, after an uneven night, made consecutive three-pointers to cut what had been a 16-point fourth-quarter lead to 111-106 with 2:53 to play. Marion made a floater, Stoudemire hit one of two free throws, and the Suns came up with two crucial offensive rebounds on a late possession to help put the game away.
Bryant - defended by new father Raja Bell - scored 34 points but was just 13-of-33 from the field. Bell was playing on precious few hours of sleep after spending the night at a hospital, where his wife gave birth to their first child six hours before Wednesday's tipoff.
Copyright 2018 The Associated Press. All rights reserved. This material may not be published, broadcast, rewritten or redistributed. We strive to uphold our values for every story published.